Viscosity Testers

Also known as Zahn cups, these testers let you calculate viscosity based on the speed at which a liquid drains through a cup with a hole at the bottom. To determine viscosity, dip the cup in a liquid until it is completely filled, lift the cup out of the liquid, and time how many seconds it takes for the liquid to drain out of the hole in the bottom. Use the included formula to convert seconds to centipoise. Testers cannot be sold to Canada due to import regulations.
For Testing
Viscosity


Range,

cP

Lg.

Wd.

Dp.

Specifications
Met
Cannot Be
Sold To
Each

304 Stainless Steel

Very Thin Oils
18 to 56
13

3/4

"
1

3/8

"
2

3/8

"
ASTM D4212
Canada
0000000
0000000
Thin Oils and Lacquers
40 to 230
13

3/4

"
1

3/8

"
2

3/8

"
ASTM D4212
Canada
0000000
000000
Medium Oils and Mixed Paints
150 to 790
13

3/4

"
1

3/8

"
2

3/8

"
ASTM D4212
Canada
0000000
000000
Heavy Liquids
220 to 1,100
13

3/4

"
1

3/8

"
2

3/8

"
ASTM D4212
Canada
0000000
000000
Very Heavy Liquids and Mixtures
460 to 1,725
13

3/4

"
1

3/8

"
2

3/8

"
ASTM D4212
Canada
0000000
000000
Rotational Viscosity Meters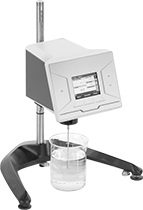 Meter
(Beaker Not Included)
To help ensure batch quality and consistency, these meters use the resistance met by their rotating spindle to measure the viscosity of liquid samples more quickly than manual testers. Results show immediately on a digital display. They also display torque percentage, which is often used by labs. If the torque percentage is outside the ideal range (10%-90%), switch to a different size spindle to improve accuracy. These meters come with multiple spindles to accommodate a wide range of viscosities. Spindles attach to meters magnetically, so you can add them with one hand and there's little risk of bending them. They cannot be sold to the regions listed due to import regulations.
These meters require no external programming—switch between samples by making adjustments on the display. Results are not saved, so plug meters into a printer to create a record.
Use these meters with standard 600 ml beakers.
1 cP-6,000,000 cP meters work with low-viscosity fluids with a viscosity similar to juice, ink, and mouthwash. Add spindle guards to prevent measurement errors caused by waves and ripples.
60 cP-320,000,000 cP meters test high-viscosity fluids that are similarly viscous to mayonnaise, peanut butter, and hair gels.
Add temperature probes to account for the impact of temperature on viscosity.
Lubricant Analysis Kits

Send in samples of your grease, oil, or coolant, and get back a full report on the condition of both your lubricant and equipment. Samples are tested within 24 hours of arrival at the lab, and the results are emailed to you. If the lab discovers critical conditions, they will call you to provide guidance on how to address the problem. Kit includes six bottles with labels, so you can test multiple samples.
Analysis includes ferrography for traces of metal that indicate wear; infrared spectroscopy for soot, nitrogen, and other signs of oxidation; and an elemental analysis for contaminants, such as water or fuel.
For Testing
Number
of Bottles
Bottle


Cap.,

oz.

Tests Included
Includes
Each
Gear Box Oil
6
4
Elemental Analysis, Total Acid Number, Viscosity @ 40° C, Fourier-Transform Infrared Spectroscopy, Direct Read Ferrography, Wear Particle Analytical Ferrography, Particle Count, Karl Fischer Water Content, Crackle (Water Contamination)
Equipment Data Sheets (EDS), Sample Bottles, Sample Bottle Labels, Shipping Box
0000000
0000000
Hydraulic Oil
6
4
Elemental Analysis, Total Acid Number, Viscosity @ 40° C, Fourier-Transform Infrared Spectroscopy, Direct Read Ferrography, Wear Particle Analytical Ferrography, Particle Count, Karl Fischer Water Content, Crackle (Water Contamination)
Equipment Data Sheets (EDS), Sample Bottles, Sample Bottle Labels, Shipping Box
0000000
000000