Quick-Clamp

Drill-Press

Vises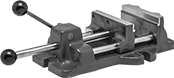 Lever Jaw Lock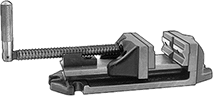 Screw Jaw Lock
Push the handle to slide the jaw into place for quicker setup than standard drill-press vises. Mount these vises directly to your drill press for drilling, tapping, and reaming applications. Use the step on the jaws to raise the workpiece and allow more clearance for cutting tools.
Lever-locking vises secure a workpiece when you pull the lever down. To release the jaw, pull the lever up.
Pump-action lever-locking vises allow you to adjust the tension holding the workpiece by pumping the lever. Pull the lever all the way down to lock; pull up to release.
Screw-locking vises engage and adjust the tension with a turn of the screw. Turn in the opposite direction to disengage. They have one smooth jaw and one grooved jaw for clamping flat, round, and uneven workpieces.
Vises with open base allow you to drill through your workpiece without hitting the bottom of the vise.
Wd.

Ht.

Max.


Opening
Style
Material
Texture
Overall


Ht.

Body


Lg.

Mounting
Fasteners
Included

No.


of

Dia.

Features
Each

Fixed Base

Lever Jaw Lock

3"
1

1/4

"
3"
Flat
Steel
Smooth
2

3/4

"
9"
No
4

1/2

"
Open Base, Stepped Jaws
000000
0000000
4"
1

5/16

"
4

5/8

"
Flat
Steel
Smooth
3

1/4

"
11

3/4

"
No
4

17/32

"
Open Base, Stepped Jaws
000000
000000
6"
1

13/16

"
6

1/8

"
Flat
Steel
Smooth
3

3/4

"
14

3/4

"
No
4

11/16

"
Open Base, Stepped Jaws
000000
000000
8"
2"
8

1/8

"
Flat
Steel
Smooth
4

1/2

"
17

7/8

"
No
4

11/16

"
Open Base, Stepped Jaws
000000
000000

Pump-Action

Lever Jaw Lock

3"
1

1/4

"
3"
Flat
Steel
Smooth
2

3/4

"
9"
No
4

1/2

"
Open Base, Stepped Jaws
000000
000000
4"
1

5/16

"
4

5/8

"
Flat
Steel
Smooth
3

1/4

"
11

3/4

"
No
4

17/32

"
Open Base, Stepped Jaws
000000
000000
6"
1

13/16

"
6

1/8

"
Flat
Steel
Smooth
3

3/4

"
14

3/4

"
No
4

11/16

"
Open Base, Stepped Jaws
000000
000000
8"
2"
8

1/8

"
Flat
Steel
Smooth
4

1/2

"
17

7/8

"
No
4

11/16

"
Open Base, Stepped Jaws
000000
000000

Screw Jaw Lock

3"
1

1/2

"
3"
Flat
Steel
Smooth and Grooved
2

5/8

"
9"
No
4

1/2

"
Stepped Jaws
0000000
000000
4"
1

1/2

"
6"
Flat
Steel
Smooth and Grooved
3"
13"
No
4

1/2

"
Stepped Jaws
0000000
000000
6"
2"
8"
Flat
Steel
Smooth and Grooved
3

7/8

"
17"
No
8

5/8

"
Stepped Jaws
0000000
000000
8"
3"
10"
Flat
Steel
Smooth and Grooved
5

1/2

"
21

3/4

"
No
8

7/8

"
Stepped Jaws
0000000
00000000