Tube Holders for Bench Vises
Shown with Bench Vise
(Sold Separately)

Tube Holder
Clamp tubing into these holders to keep it steady while you cut, flare, or expand the end. The holes are made to specific tube sizes for a secure grip that won't dent or deform tubing, especially when working with small sizes and soft metals.
For Tube OD
Overall


Lg.

Handle


Lg.

Material
Each
4.75mm, 6mm, 8mm, 10mm
7"
3

1/4

"
Chrome-Plated Steel
0000000
000000
Sets of Parallels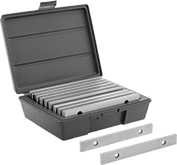 Sets include multiple sizes of matched pairs that are precision ground for tight tolerances on the top and bottom edges. Place a parallel against each vise jaw and rest your workpiece on top to raise it within the vise and allow more clearance for cutting tools.
No.


of
Pairs

Lg.,


mm

Thick.

Ht.

Parallel


Tolerance,


mm
Material
Container
Type
Each
20
100
2 mm
5 mm, 10 mm, 15 mm, 20 mm

6 mm, 11 mm, 16 mm, 21 mm

7 mm, 12 mm, 17 mm, 22 mm

8 mm, 13 mm, 18 mm, 23 mm

9 mm, 14 mm, 19 mm, 24 mm

0.01
Steel
Wood Stand
0000000
0000000
Ball-Lock

Quick-Change

Fixture Clamps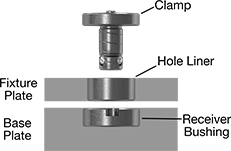 Build these components into fixture plates, machine subplates, and tombstones for quick changes. The system clamps and locates at the same time for accurate positioning with repeatability of ±0.0005". Components are compatible with Jergens Ball-Lock, Carr-Lane Carr Lock, and Kurt PinLock quick change systems.
For accurate positioning, at least two sets of clamps, liners, and receivers are required. Install the receivers in the base plate and the liners in the fixture plate. Then line up the two plates, insert the clamps, and tighten their screws to secure the fixture in place. If more holding capacity is needed, use additional clamps and receivers but omit liners to prevent the clamp from getting stuck in the fixture plate.
Push receiver plugs into unused receivers to prevent chips and coolant from accumulating during machining. When installed, plugs sit flush with the surface of the fixture plate. To remove, thread a screw into the tapped hole in the center and pull up.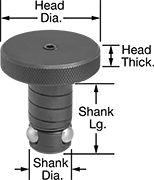 Clamp
For Fixture
Plate


Thick.

Dia.,


mm

Lg.

Dia.

Thick.

Hex
Key
Size
For Fixture Plate


Thick.


Tolerance
Holding


Capacity,




lbs.

Material
Includes
Each

1/2

"
13
1.08"

7/8

"

1/4

"

3/32

"
-0.005" to 0.005"
625
Black-Oxide Steel
Hex Key, Set Screw
0000000
0000000

1/2

"
16
1.15"
1

1/2

"

5/16

"

1/8

"
-0.005" to 0.005"
800
Black-Oxide Steel
Hex Key, Set Screw
0000000
000000

3/4

"
13
1.33"

7/8

"

1/4

"

3/32

"
-0.005" to 0.005"
625
Black-Oxide Steel
Hex Key, Set Screw
0000000
000000

3/4

"
16
1.40"
1

1/2

"

5/16

"

1/8

"
-0.005" to 0.005"
800
Black-Oxide Steel
Hex Key, Set Screw
0000000
000000

3/4

"
20
1.53"
1

3/4

"

3/8

"

1/8

"
-0.005" to 0.005"
2,250
Black-Oxide Steel
Hex Key, Set Screw
0000000
00000

3/4

"
25
1.70"
2"

3/8

"

5/32

"
-0.005" to 0.005"
5,440
Black-Oxide Steel
Hex Key, Set Screw
0000000
000000
1"
20
1.78"
1

3/4

"

3/8

"

1/8

"
-0.005" to 0.005"
2,250
Black-Oxide Steel
Hex Key, Set Screw
0000000
00000
1"
25
1.95"
2"

3/8

"

5/32

"
-0.005" to 0.005"
5,400
Black-Oxide Steel
Hex Key, Set Screw
0000000
000000
1"
30
2.13"
2

1/4

"

1/2

"

3/16

"
-0.005" to 0.005"
8,000
Black-Oxide Steel
Hex Key, Set Screw
0000000
000000
1"
35
2.22"
2

1/4

"

1/2

"

1/4

"
-0.005" to 0.005"
11,780
Black-Oxide Steel
Hex Key, Set Screw
0000000
000000
1"
50
2.70"
3"

3/4

"

3/8

"
-0.005" to 0.005"
15,200
Black-Oxide Steel
Hex Key, Set Screw
0000000
000000
1

1/2

"
35
2.72"
2

1/4

"

1/2

"

1/4

"
-0.005" to 0.005"
11,780
Black-Oxide Steel
Hex Key, Set Screw
0000000
000000
1

1/2

"
50
3.20"
3"

3/4

"

3/8

"
-0.005" to 0.005"
15,200
Black-Oxide Steel
Hex Key, Set Screw
0000000
000000
2"
35
3.22"
2

1/4

"

1/2

"

1/4

"
-0.005" to 0.005"
11,780
Black-Oxide Steel
Hex Key, Set Screw
0000000
000000
2"
50
3.70"
3"

3/4

"

3/8

"
-0.005" to 0.005"
15,200
Black-Oxide Steel
Hex Key, Set Screw
0000000
000000