Wall Vent Caps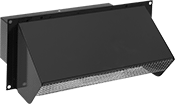 Cover external vents to reduce downdrafts and prevent obstructions from entering the vent.
Ht.

Wd.

Ht.

Wd.

Lg.

Gauge
Features
Includes
Fasteners
Included
Hole


Dia.

Each

For Rectangular Duct

10"
3

1/4

"
5

5/8

"
12

3/4

"
8

7/8

"
24
Bird Screen
Backdraft Damper
No

3/16

"
0000000
000000
Guide air toward your workspace or deflect unwanted drafts with these diverters and covers. They fit over HVAC vents, diffusers, and registers to direct hot and cold air.
Diverters direct air without restricting flow. Slide-in-mount diverters fit between your diffuser and a drop ceiling grid.
Magnet-mount diverters attach to metal registers on your wall, baseboard, and floor with the included magnets. For some, you can use screws (not included) to mount them to plastic and wood vents. All have adjustable width to fit a variety of vent sizes. Made of polycarbonate, they're durable and resist cracking.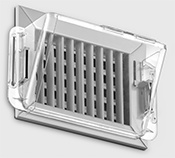 Wall Mount
Ht.

Wd.

Dp.

Material
Color
Mounting
Fasteners Included
Mounting
Slot

Wd.

Each

Magnet or Screw Mount

5

1/2

"
11"-18"
3"
Polycarbonate Plastic
Clear
No

1/8

"
0000000
000000