Washdown
Ceiling-

and

Wall-Mount

Large-Space

Electric Heaters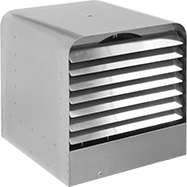 The wiring compartment is sealed to NEMA 4 standards for protection from dust and washdowns. These heaters warm large areas such as shops, garages, and warehouses. Adjust the louvers to direct airflow. Mount on the ceiling or wall with the included brackets.
When operating the 208V AC/240V AC heaters at 208 volts AC, maximum area heated and heat output are reduced by 25%.
Wall-mount thermostat is sold separately. It meets NEMA 4X for protection from dust, washdowns, and corrosion.
Heat


Output,




Btu/hr.

Max.

Area Heated
@ Temperature
Change

Airflow,


cfm

Wattage,


W

Current,


A

Ht.

Wd.

Dp.

Housing
Material
Environmental
Rating
Each
Each

208V

AC/240V

AC,

Single

Phase—

Wire Leads

17,100
2,280 cu. ft. @ 10° F
1,140 cu. ft. @ 20° F
760 cu. ft. @ 30° F
570 cu. ft. @ 40° F
400
5,000
20.8
17"
15"
11"
Stainless Steel
NEMA 4

00000000
000000000
00000000
0000000

208V

AC/240V

AC,

Three

Phase—

Wire Leads

34,100
4,540 cu. ft. @ 10° F
2,270 cu. ft. @ 20° F
1,510 cu. ft. @ 30° F
1,130 cu. ft. @ 40° F
725
10,000
24
17"
15"
18"
Stainless Steel
NEMA 4

00000000
00000000
00000000
000000
68,300
9,100 cu. ft. @ 10° F
4,550 cu. ft. @ 20° F
3,030 cu. ft. @ 30° F
2,270 cu. ft. @ 40° F
1,100
20,000
48.1
17"
15"
18"
Stainless Steel
NEMA 4

00000000
00000000
00000000
000000

480V

AC,

Three

Phase—

Wire Leads

17,100
2,280 cu. ft. @ 10° F
1,140 cu. ft. @ 20° F
760 cu. ft. @ 30° F
570 cu. ft. @ 40° F
400
5,000
6
17"
15"
18"
Stainless Steel
NEMA 4

00000000
00000000
00000000
000000
34,100
4,540 cu. ft. @ 10° F
2,270 cu. ft. @ 20° F
1,510 cu. ft. @ 30° F
1,130 cu. ft. @ 40° F
725
10,000
12
17"
15"
18"
Stainless Steel
NEMA 4

00000000
00000000
00000000
000000
68,300
9,100 cu. ft. @ 10° F
4,550 cu. ft. @ 20° F
3,030 cu. ft. @ 30° F
2,270 cu. ft. @ 40° F
1,100
20,000
24.1
17"
15"
18"
Stainless Steel
NEMA 4

00000000
00000000
00000000
000000