Metric Oversized Washers

Steel
Compared to our general purpose washers, these have exaggerated diameters and/or thicknesses. Use them to cover oversized holes, hold heavy fastening loads, or as spacers and levelers.
Plain steel washers are stronger, more wear resistant, and less costly than zinc-plated steel and stainless steel washers. They should not be used in wet or corrosive environments because they easily rust. Washers that meet DIN and ISO specifications, meet international standards for washer dimensions. ISO 8738 is formerly DIN 1440. ISO 7093 is formerly DIN 9021.
For technical drawings and 3-D models, click on a part number.
For Screw
Size

ID,


mm

OD,


mm

Thick.,


mm
Hardness
Specifications Met

Pkg.




Qty.

Pkg.

Steel

M25

25.0
40.0
3.7-4.3
Rockwell B76
DIN 1440, ISO 8738
5
000000000
00000
Belleville Spring Lock Washers for Socket Head Screws

Steel


Stainless Steel
These washers have smaller outside diameters than standard spring lock washers to fit neatly under socket head cap screws. Also known as conical washers, these have a slightly cupped shape that gives them spring-like flexibility to grip tighter than split and tooth lock washers. They minimize loosening from wear, temperature changes, and vibration. Serrations on the top and bottom provide extra gripping power. Load-rated Belleville disc springs are also available.
18-8 stainless steel washers have good chemical resistance and may be mildly magnetic.
For technical drawings and 3-D models, click on a part number.
Spring Lock Washers for Slotted Bearing Nuts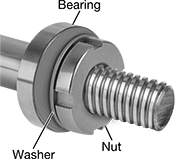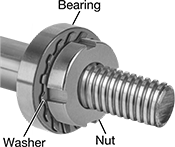 Designed for use with bearing nuts, these lock washers have a conical shape that presses like a spring against bearings, bushings, gears, and pulleys to hold them in place on your threaded shaft or spindle. They also have an inner tab that sits in the shaft or spindle's keyway to prevent the nut from loosening. Made of steel, they're strong and flexible.
Spring lock washers with external teeth grip components using their teeth, in addition to spring tension.
DIN 462 and DIN 5406 washers meet international standards for lock washer dimensions. Pair DIN 462 washers with DIN 1804 bearing nuts, and DIN 5406 washers with DIN 981 bearing nuts.
For technical drawings and 3-D models, click on a part number.