Yellow Jacket Traps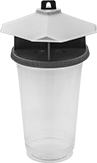 Fill this baited trap with water to drown yellow jackets and then throw it away when it's full.
Dia.

Ht.

Material

1-11

12-Up

4"
9"
Plastic
0000000
00000
00000
Lighted Insect Glue Traps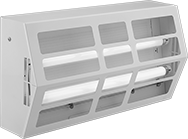 Use this quiet, indoor trap to lure and kill flying insects with UV light bulbs which are placed next to sticky glue boards.
Glue board set includes replacement bottom and back glue boards.