About
Pressure-Relief

Valves
Fast-Acting

Temperature-

and

Pressure-Relief

Valves for Hot Water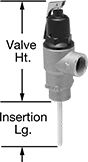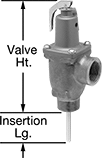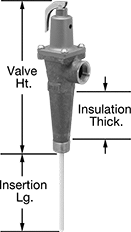 Male ×
Female With Extended Body
For Use

With:

Water
Specifications

Met:


Pipe size of

3/4

-2: ASME

BPVC.

IV
Pipe size of

1/2

-2: CSA Certified

Max.

Temperature:

210° F
Also known as T & P valves, these open when water temperature reaches 210° F or at the set pressure. They are commonly used with water heaters and storage tanks. All spring fully open at a water temperature of 210° F or the set pressure and remain open until the system is restored below the set point. For remote discharge, valves have a threaded relief port to attach a drain line. Body is bronze for durability and a long service life.
Valves with 3/4 to 2 pipe size meet ASME Code Section IV for hot water.
Valves with an extended body are designed for installation through thick insulation.
For technical drawings and 3-D models, click on a part number.
Pipe
Size

Location
Maximum


Pressure,


psi
Pipe
Size

Location
Pressure

Temperature,




°F

Water Flow


Capacity,




Btu/hr.

Features
Fits
Insulation


Thick.

Insertion


Lg.

Valve


Ht.

Overall


Ht.

Test
Mechanism
Valve
Type
Each

NPT Female Inlet and NPT Female Relief Port

Bronze

Body—

Silicone Seal

3/4

Bottom
125

3/4

Side
125
210°
185,000
__
__
3"
5

7/8

"
8

7/8

"
Lever
Pop Safety
0000000
0000000

3/4

Bottom
150

3/4

Side
150
210°
185,000
__
__
3"
5

7/8

"
8

7/8

"
Lever
Pop Safety
0000000
000000

NPT Male Inlet and NPT Female Relief Port

Bronze

Body—

Silicone Seal

1/2

Bottom
150

1/2

Side
150
210°
15,000
__
__
1

7/16

"
3

1/4

"
4

11/16

"
Lever
Pop Safety
0000000
00000

3/4

Bottom
150

3/4

Side
150
210°
95,000
__
__
1

7/16

"
3

1/4

"
4

11/16

"
Lever
Pop Safety
0000000
00000

3/4

Bottom
150

3/4

Side
150
210°
105,000
__
__
3"
3

1/4

"
6

1/4

"
Lever
Pop Safety
0000000
00000

3/4

Bottom
165

3/4

Side
150
210°
105,000
Extended Body
1

1/4

"
2

1/2

"
4

3/4

"
7

1/4

"
Lever
Pop Safety
0000000
00000

3/4

Bottom
165

3/4

Side
150
210°
1,438,000
Extended Body
1

5/8

"
3

1/2

"
6

5/8

"
10

1/8

"
Lever
Pop Safety
0000000
000000

3/4

Bottom
165

3/4

Side
150
210°
1,438,000
Extended Body
3

5/8

"
5"
8

5/8

"
13

5/8

"
Lever
Pop Safety
0000000
000000
1

Bottom
165
1

Side
150
210°
2,135,000
__
__
2"
6

1/4

"
8

1/4

"
Lever
Pop Safety
0000000
000000
1

Bottom
165
1

Side
150
210°
2,135,000
__
__
4"
6

1/4

"
10

1/4

"
Lever
Pop Safety
0000000
000000
2

Bottom
150
1

1/2

Side
150
210°
1,200,000
__
__
3"
8

1/2

"
11

1/2

"
Lever
Pop Safety
0000000
000000