Garden Hose Timers

Water up to four cycles per day—from 1 minute to 4 hours per cycle. The timer also has a manual override, so you can use your hose without interrupting scheduled programming.
Wd.

Dp.

Ht.

Material
Connection
Type
Hose
Connection
Type
Inlet
Gender
Outlet
Gender
Thread
Type
Hose
Size
Included

No.


Required
Size
Each
6

5/8

"
3"
10

1/4

"
Plastic
Hose
Threaded
Female
Male
GHT

3/4
No
2
AA
0000000
000000
Timers for Underground Sprinkler Systems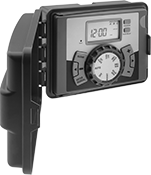 Water six different zones up to four times a day, with cycles from 1 minute to 4 hours.
Wd.

Dp.

Ht.

Material
Voltage
Cord


Lg.

Plug
Type
Output
Power
Connection

No.


of
Location

Dia.

Mounting
Fasteners
Included
Specifications
Met
Each
8"
3

3/4

"
6

1/4

"
Plastic
120V AC
5 ft.
Two Prong
Quick-Disconnect Terminals
2
Bottom

7/8

"
Yes
ETL Listed

00000000
000000
Faucet Timers for Handwashing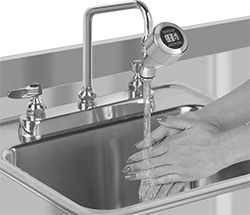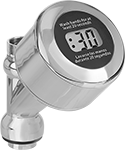 Attach these timers to faucets to make sure you're following handwashing protocols that help prevent the spread of illness. Most health organizations recommend washing your hands for at least 20 seconds to eliminate germs. These timers have a 30-second countdown, which is enough time to pump soap, wash for 20 seconds, and rinse your hands. An easy-to-read LCD display shows you the amount of time you have left. They also beep to alert you when the countdown is done, so you don't have to watch the timer.
These timers are touch-free—a sensor triggers the countdown as soon as water starts flowing, and they automatically reset after 30 seconds. The countdown continues even if the flow of water stops, so you can install them on both manual and touch-free sinks. Connect timers directly to a male-threaded faucet, or use the male adapter to connect to a female-threaded faucet. They include a wrench, so you don't need tools on hand to install them.
Made from impact-resistant ABS, these timers hold up to bumps and scrapes from regular use. The chrome finish blends in with silver faucets. An aerator at the base of the timer prevents splashes and helps create a smooth flow of water. They also have a rubber gasket to keep water from leaking through the faucet connection.
Thread
Size

Gender
Timer


Duration,




sec.

Diameter
Height
Flow


Rate,


gpm
Batteries
Included
Features
Includes
Each

55/64

"-27

Female
30
2

7/8

"
5

1/4

"
2
Yes
Auto Reset, LCD Display

15/16

"-27 Male Adapter, Wrench
0000000
0000000