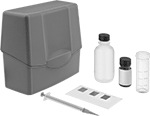 Analog
Digital
All the chemicals and labware you need for on-site sampling and water-quality testing.
Digital kits offer simpler and more accurate testing than analog kits. While analog kits require you to visually match color against a chart, these kits electronically measure color for you, even in dim lighting. The digital screen shows you a precise measurement.
Water-Quality

Combination Test Kits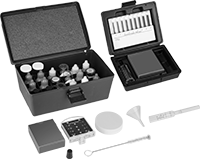 Test for contaminants before installing water-treatment equipment such as boilers and filters. You can also check your pipes and equipment for improper chemical levels that can cause corrosion and scale buildup, shortening their life.
367-test kits include tests for six common water-quality parameters in boiler systems and cooling towers.
340-test kits include tests for monitoring municipal water, which is often treated with chlorine.
290-test kits include tests that help you monitor well water, which often contains sulfur compounds.
For
Testing
Range
Test
Type
Number
of
Tests
Each
Each
Hardness
Total; 5.0-15.0/100-300 ppm

Phenolthalein and Total; 100-300/500-1500 ppm

1.0-12.0 ppm

0-10 ppm

20-60/50-150 ppm

100-300/5,000-15,000 ppm

Analog
75
00000000
0000000
000000
00
Hardness

Iron

Chlorine

pH

Total Dissolved Solids (TDS)

Total; 0-30 gpg
Analog
120
0000000
000000
0000000
000000
Hardness

Iron

Hydrogen Sulfide, Sulfide

Total Dissolved Solids (TDS)

Total; 0-30 gpg
Analog
120
0000000
000000
0000000
00000
Water-Quality

Test Strips
Dip these strips into your liquid to quickly test water conditions. Strips change color to indicate the value reached; match the color of the strip to the color chart on the bottle to interpret the results.
Single-Substance Test Strips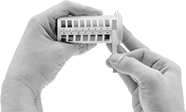 For Testing
Range

No.

of
Strips
Each
Alkalinity
Chlorine
Hardness
pH
Total; 0-240 ppm
Free and Total; 0-10 ppm
Total; 0-25 gpg
6.2-8.4 pH
50
00000000
000000