About Safety Ratings for Electrical Testing
Power Consumption Meters


Measure the amount of power your devices draw and calculate energy costs with these consumption meters. Plug them directly into an outlet, and plug your tool or appliance into the front of the meter. To track your power costs, enter the local price per kilowatt-hour (kWh) into the meter, and they'll display the total amount you're spending. They also help you monitor the quality of electricity coming from your outlet.
These meters meet U.S. and international safety standards. Rated CAT II, 150V, they can be safely used with most single-phase AC appliances and tools.
Max.




Power,


W

Max.


AC
Voltage
AC
Voltage
Accuracy

Max.

AC


Current,


A
Current
Accuracy

Max.




Frequency,


Hz

Max.

Power


Consumption,


kWh

Max.


Electrical
Cost

Ht.

Wd.

Dp.

Specifications
Met
Plug
Type
Features
Each
1,800
150V AC
1%
15
1%
65
9,999
$9,999
5.1"
2.6"
1

1/2

"
UL Listed, CSA Certified, CE Marked, ETL Listed
Three Prong
Backup Battery
0000000
000000
Analog Panel Monitors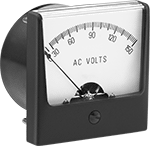 Acrylic Window
Observe rapidly changing electrical values in equipment such as motors and generators with an analog display that shows the magnitude and rate of change more easily than a digital display.
Wattage,


W
AC
Voltage
AC


Current,


A
Accuracy

Ht.

Wd.

Dp.

Dia.

Dp.

Wire
Connection
Frequency
Frequency
Calibration
Each

Acrylic Window

0 to 10
0-150
0-0.2
±2%
4"
4.7"
2.97"
2.81"
2.32"
Screw Terminals
25-125
60 Hz
00000000
0000000
0 to 20
0-150
0-0.4
±2%
4"
4.7"
2.97"
2.81"
2.32"
Screw Terminals
25-125
60 Hz
00000000
000000
0 to 75
0-150
0-1
±2%
4"
4.7"
2.97"
2.81"
2.32"
Screw Terminals
25-125
60 Hz
00000000
000000
0 to 150
0-150
0-2
±2%
4"
4.7"
2.97"
2.81"
2.32"
Screw Terminals
25-125
60 Hz
00000000
000000
0 to 300
0-150
0-4
±2%
4"
4.7"
2.97"
2.81"
2.32"
Screw Terminals
25-125
60 Hz
00000000
000000
0 to 600
0-300
0-4
±2%
4"
4.7"
2.97"
2.81"
2.32"
Screw Terminals
25-125
60 Hz
00000000
000000
0 to 750
0-150
0-10
±2%
4"
4.7"
2.97"
2.81"
2.32"
Screw Terminals
25-125
60 Hz
00000000
000000
0 to 1,500
0-300
0-10
±2%
4"
4.7"
2.97"
2.81"
2.32"
Screw Terminals
25-125
60 Hz
00000000
000000