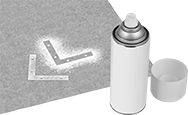 Treated with wax, these paper sheets resist tearing and have a slippery surface that protects products and foods from scratches or sticking together during manufacturing, shipping, and storing. Use them to wrap your items or even as a nonstick work surface. All of these sheets are FDA compliant for direct contact with food. They are not, however, meant for use in ovens and microwaves, since they may smoke or catch fire.
Wax-embedded paper sheets, also known as dry wax paper, won't leave a wax residue behind on any surface. They're especially good for foods, since they won't transfer any residue that could change the flavor of your foods.
Note: One mil equals 0.001".
Width
Length

Thickness,


mil
Color
Specifications
Met

Pkg.




Qty.

Pkg.

Wax Embedded

5"
5"
3

1/2

Brown
FDA Compliant 21 CFR 176.170, FDA Compliant 21 CFR 176.180, FDA Compliant 21 CFR 178.3710
2,500
0000000
000000
6"
6"
3

1/2

Brown
FDA Compliant 21 CFR 176.170, FDA Compliant 21 CFR 176.180, FDA Compliant 21 CFR 178.3710
6,000
0000000
00000
8"
8"
3

1/2

Brown
FDA Compliant 21 CFR 176.170, FDA Compliant 21 CFR 176.180, FDA Compliant 21 CFR 178.3710
5,000
0000000
000000
10"
15"
3

1/2

Brown
FDA Compliant 21 CFR 176.170, FDA Compliant 21 CFR 176.180, FDA Compliant 21 CFR 178.3710
2,000
0000000
000000
12"
12"
3

1/2

Brown
FDA Compliant 21 CFR 176.170, FDA Compliant 21 CFR 176.180, FDA Compliant 21 CFR 178.3710
2,000
0000000
00000
18"
24"
3

1/2

Brown
FDA Compliant 21 CFR 176.170, FDA Compliant 21 CFR 176.180, FDA Compliant 21 CFR 178.3710
1,250
0000000
000000
24"
36"
3

1/2

Brown
FDA Compliant 21 CFR 176.170, FDA Compliant 21 CFR 176.180, FDA Compliant 21 CFR 178.3710
625
0000000
000000