Weather/Hazard

Alert Radios


Bench Top Radio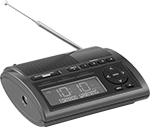 Bench Top Radio with
AM/FM
Reception
Get up-to-the-minute local weather and hazard alerts. These radios sound an alarm and display an alert message when they receive weather warnings in your area.
Hand-held radio operates up to 50 miles from the transmitter.
Radios that cannot be sold to Canada are restricted by local energy efficiency requirements.
Weather
Radio
Type

Max.


Counties
Monitored
Power
Source

Ht.

Wd.

Dp.

Battery
Size

No.

of
Batteries
Required
Batteries
Included
Cannot
Be
Sold To
Each
Hand Held
9
Battery Operated
7"
3"
1

1/2

"
AA
3
No
__
0000000
000000
Bench Top
25
Electric, Backup Battery
2"
5

1/8

"
6

1/4

"
AA
3
No
__
0000000
00000
Bench Top with AM, FM
25
Electric, Backup Battery
2

1/2

"
7"
5

3/4

"
AA
4
No
Canada
0000000
000000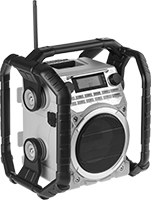 AM/FM,
NOAA Weather
Band,
and Bluetooth

AM/FM,
NOAA Weather
Band,
and Bluetooth Display
Stay informed and entertained while you're on the job. Plug these radios in when you're near an outlet, or use batteries to take them anywhere. All can be used in the rain or other wet environments.
IP54 and IP64 radios are the best choice for dusty and sandy jobsites.
Radios with a Bluetooth connection work with your smartphone or other Bluetooth-enabled device to play music wirelessly. When plugged in and used with rechargeable batteries, these radios let you charge the batteries without needing a separate charger.
Radios with NOAA weather band reception receive seven frequencies for local weather alerts and hazard information.
Radios with a roll cage keep working if dropped or knocked off a workbench.
Radio
Reception
Connection
Type
Environmental
Rating
Material

Ht.

Wd.

Dp.

Cord


Lg.,




ft.

Included
Size

No.


Required

Max.


Volume
Features
Includes
Each
AM/FM, NOAA Weather Band
Bluetooth, Auxiliary Cord
IP64

Plastic
13

1/2

"
11

3/4

"
10

1/2

"
7
No
D
6
88 dB @ 3 ft.
Backlit Display
Roll Cage
0000000
0000000