System of Measurement

System of Measurement

For Use Outdoors

For Use Outdoors
DFARS (Defense Acquisition Regulations Supplement)

DFARS

(Defense

Acquisition

Regulations

Supplement)
Door Kick Plates
Also known as door plates, armor plates, and mop plates, kick plates protect the base of a door from damage caused by foot traffic and equipment. Choose a kick plate with a width that is 2" narrower than the overall width of the door to prevent interference with the door's opening and closing. All can be used outdoors.
Screw-in plates mount with fasteners.
Brass and bronze plates provide a more decorative finish than other plates. They have good corrosion resistance and are nonmagnetic.
For technical drawings and 3-D models, click on a part number.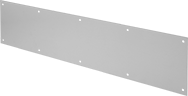 Screw In