Drill Chuck Removal Wedges

Remove taper mount drill chucks from arbors and spindles. Place one wedge on each side of the chuck, and then hammer each wedge end until the chuck releases.
Hammer Handle Wedge Assortments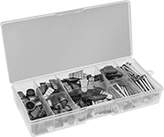 These assortments include wedges for different sizes of hammer as well as axes. Drive wedges into the tool's handle to create a snug fit with the head.
No.

of
Pieces
Includes
Material
Wedge
Texture
Container
Type
Each
252
36 Small Hammer Wedges
36 Nail Hammer Wedges
36 Large Hammer Wedges
36 Sledge Wedges
12 Ax Wedges
12 Round Wedges (

9/16

" Diameter)
12 Round Wedges (

3/4

" Diameter)
72 Steel Rivets (

3/16

" Diameter × 1

5/8

" Long)
Steel
Smooth
Plastic Box
000000
000000