Weldable 321 Stainless Steel
The titanium content of 321 stainless steel preserves corrosion resistance around weld points. This material maintains its corrosion resistance in temperatures up to 1500° F.
Foil is often used as a heat-treating wrap in temperatures up to 2000° F. It is furnished with a crimping tool.
For technical drawings and 3-D models, click on a part number.

Certificates with a traceable lot number are available for these products. Download certificates from ORDER HISTORY after your order ships.

Yield

Strength:

36,

000 psi

Hardness:

Rockwell B95

(Medium)

Heat

Treatment:

Annealed

(Softened)

Heat

Treatable:

No
Specifications

Met:

ASTM

A240,

SAE AMS5510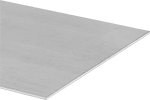 Yield

Strength:

25,

000 psi
Rockwell B95

(Medium)

Heat

Treatment:

Annealed

(Softened)

Heat

Treatable:

No
Specifications

Met:

ASTM

A240,

SAE AMS5510
Thick.

Thick.

Tolerance
Fabrication
Flatness
Tolerance
6"


× 6"

12"


× 12"

12"




× 36"

24"


× 24"

0.016"
-0.003" to 0.003"
Cold Worked
0.40"
0000000
0.02"
-0.003" to 0.003"
Cold Worked
0.40"
0000000
0.025"
-0.003" to 0.003"
Cold Worked
0.40"
0000000
0.032"
-0.004" to 0.004"
Cold Worked
0.40"
0000000
0.035"
-0.004" to 0.004"
Cold Worked
0.40"
0000000
0.04"
-0.004" to 0.004"
Cold Worked
0.40"
0000000
0.05"
-0.005" to 0.005"
Cold Worked
0.40"
0000000
0.062"
-0.005" to 0.005"
Cold Worked
0.40"
0000000
0.08"
-0.006" to 0.006"
Cold Worked
0.40"
0000000
0.09"
-0.006" to 0.006"
Cold Worked
0.40"
0000000
0.105"
-0.008" to 0.008"
Cold Worked
0.40"
0000000

1/8

"
-0.008" to 0.008"
Cold Worked
0.40"
0000000
0.188"
-0.01" to 0.045"
Hot Rolled
0.90"
0000000

1/4

"
-0.01" to 0.045"
Hot Rolled
0.90"
0000000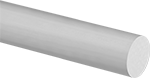 Yield

Strength:

30,

000 psi

Hardness:

Rockwell B75

(Medium)

Heat

Treatment:

Annealed

(Softened)

Heat

Treatable:

No
Specifications

Met:

ASTM

A276,

SAE AMS5645
Dia.

Dia.

Tolerance
Fabrication
Straightness
Tolerance

1/2

ft.




Lg.

1 ft.




Lg.

2 ft.




Lg.

3 ft.




Lg.

6 ft.




Lg.

1/2

"
-0.003" to 0.003"
Cold Rolled

1/16

" per 5 ft.
00000000

5/8

"
-0.003" to 0.003"
Cold Rolled

1/16

" per 5 ft.
00000000

3/4

"
-0.003" to 0.003"
Cold Rolled

1/16

" per 5 ft.
00000000
1"
-0.003" to 0.003"
Cold Rolled

1/16

" per 5 ft.
00000000
1

1/2

"
-0.003" to 0.003"
Cold Rolled

1/16

" per 5 ft.
00000000
2"
-0.003" to 0.003"
Cold Rolled

1/16

" per 5 ft.
00000000
3"
0" to 0.047"
Hot Rolled

1/8

" per 5 ft.
00000000