Routing Eyebolts with
Nuts—

Not for Lifting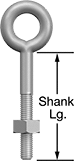 Closed Eye
Also known as nut eyebolts, these are designed for through-hole applications. Use them for routing wire and for other light duty applications.
Zinc-plated steel eyebolts offer good corrosion resistance.
316 stainless steel are the most corrosion resistant eyebolts.
Closed eyes are stronger than bent-closed eyes.
For technical drawings and 3-D models, click on a part number.
Size

Lg.

Shank


Lg.

Overall


Lg.

Eye


Dia.

No.


Included
Style

No.

of Washers
Included
Each

Closed Eye

1/4

"-20

1

1/2

"
2"
3

1/8

"

7/16

"
1
Hex
2
0000000
00000

1/4

"-20

2"
3"
4

1/4

"

7/16

"
1
Hex
2
0000000
0000

1/4

"-20

2"
4"
5

1/8

"

7/16

"
1
Hex
2
0000000
00000

1/4

"-20

2"
5"
6

1/4

"

7/16

"
1
Hex
2
0000000
00000

1/4

"-20

2"
6"
7"

7/16

"
1
Hex
2
0000000
00000

5/16

"-18

2"
3"
4

3/8

"

1/2

"
1
Hex
2
0000000
00000

5/16

"-18

2"
4"
5

1/2

"

1/2

"
1
Hex
2
0000000
00000

5/16

"-18

2"
5"
6

3/8

"

1/2

"
1
Hex
2
0000000
00000

5/16

"-18

2"
6"
7

3/8

"

1/2

"
1
Hex
2
0000000
00000

3/8

"-16

2"
3"
4

1/2

"

5/8

"
1
Hex
2
0000000
00000

3/8

"-16

2"
4"
5

1/2

"

5/8

"
1
Hex
2
0000000
00000

3/8

"-16

2"
5"
6

5/8

"

5/8

"
1
Hex
2
0000000
00000

3/8

"-16

2"
6"
7

5/8

"

5/8

"
1
Hex
2
0000000
00000

1/2

"-13

2"
3"
4

5/8

"

1/2

"
1
Hex
2
0000000
00000

1/2

"-13

2"
4"
5

5/8

"

1/2

"
1
Hex
2
0000000
00000

1/2

"-13

2"
5"
6

5/8

"

1/2

"
1
Hex
2
0000000
00000

1/2

"-13

2"
6"
7

5/8

"

1/2

"
1
Hex
2
0000000
00000

3/16

"-24

1

1/2

"
2"
3"

3/8

"
1
Hex
2
0000000
00000

3/16

"-24

2"
3"
4"

3/8

"
1
Hex
2
0000000
00000