Metal
Welded-Wire

Fencing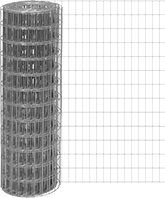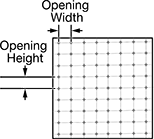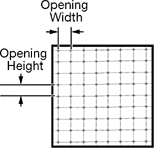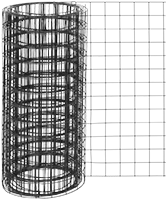 PVC-Coated
Zinc-Plated
Steel
With wire strands welded at each intersection, this fencing has a rigid, sturdy construction.
Easy-to-Assemble

Wire Partitions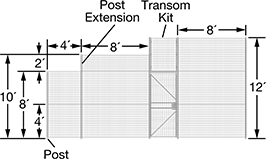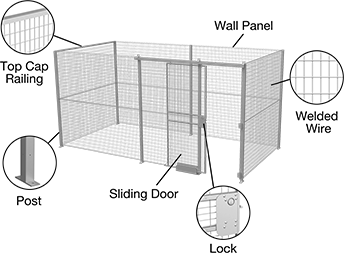 Due to the welded-wire construction these panels require fewer nuts and bolts, and won't unravel if you need to cut around a pipe or other obstruction.
Stack wall panels horizontally to form 8-, 10-, or 12-ft. high partitions. All have a modular design, which makes them easier to assemble and relocate than woven-wire models. There are 1" bends around the top and bottom of each wall panel for extra rigidity. Bolt wall panels together horizontally at the bends and then vertically to posts.
To Order – Please feel free to contact us or email us your drawing if you would like help determining what components you'll need.
1. Make a rough drawing of your partition, including overall width, depth, and height.
2. Indicate location, size, and style of door panels. Choose from hinged and sliding doors. Door opening directions are determined when standing outside the partition. If you want to fill the space above the doors on 10- and 12-ft. high partitions, order one transom kit per door. Transoms can be cut to match your door width.
3. Determine the number of wall panels you'll need. Wall panels can be stacked to reach desired partition height and cut if you need them to be less than 4- or 8-ft. wide between posts.
4. Use posts between each wall panel, on both sides of doors, and at corners. Order extensions to make 10- or 12-ft. high posts.
5. For added support and a more finished look, add top cap rails to panels. They can be cut to length.
6. If your partition will make use of an existing wall, order one wall mounting kit for each panel you'll connect to the wall.
Machine Guards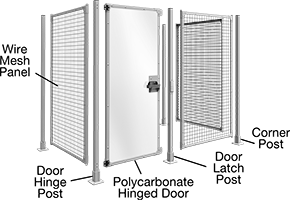 Combine posts, panels, and doors to create a barrier around equipment.
When standing on the side of the door that swings away from you, left-hand doors open to the left; right-hand doors open to the right.
Hinged doors have a slide-bolt latch.
Corner posts allow you to create a 90° corner with two panels. Inline posts allow you to connect two panels in a straight line.
The assembled width measures the installed width of a panel or door when mounted with posts on each side.
T-Slotted

Framing Machine Guards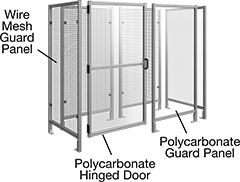 Framed in aluminum T-slotted extrusions, these customizable machine guards provide multiple points of attachment for other components and structures.
Doors have a magnetic latch. They can be mounted to swing open to the left or right.
Wire Mesh

Overall


Wd.

No.


of
Posts
Floor Clearance
When
Assembled

Ht.

Wd.

Wire


Dia.

Ht.

Wd.

T-Slot




Wd.

Mounting
Hardware
Choose
a
Color
Each

Wire

Mesh—

PVC-Coated

Steel

1'6"
2
6"
1"
1"
0.0781"
1

1/2

"
1

1/2

"
0.320"
Connecting Fasteners Included
0000000
0000000
2'0"
2
6"
1"
1"
0.0781"
1

1/2

"
1

1/2

"
0.320"
Connecting Fasteners Included
0000000
000000
2'6"
2
6"
1"
1"
0.0781"
1

1/2

"
1

1/2

"
0.320"
Connecting Fasteners Included
0000000
000000
3'0"
2
6"
1"
1"
0.0781"
1

1/2

"
1

1/2

"
0.320"
Connecting Fasteners Included
0000000
000000
3'6"
2
6"
1"
1"
0.0781"
1

1/2

"
1

1/2

"
0.320"
Connecting Fasteners Included
0000000
000000
4'0"
2
6"
1"
1"
0.0781"
1

1/2

"
1

1/2

"
0.320"
Connecting Fasteners Included
0000000
000000

Wire

Mesh—

PVC-Coated

Steel

1'6"
2
6"
1"
1"
0.0781"
1

1/2

"
1

1/2

"
0.320"
Connecting Fasteners Included
0000000
000000
2'0"
2
6"
1"
1"
0.0781"
1

1/2

"
1

1/2

"
0.320"
Connecting Fasteners Included
0000000
000000
2'6"
2
6"
1"
1"
0.0781"
1

1/2

"
1

1/2

"
0.320"
Connecting Fasteners Included
0000000
000000
3'0"
2
6"
1"
1"
0.0781"
1

1/2

"
1

1/2

"
0.320"
Connecting Fasteners Included
0000000
000000
3'6"
2
6"
1"
1"
0.0781"
1

1/2

"
1

1/2

"
0.320"
Connecting Fasteners Included
0000000
000000
4'0"
2
6"
1"
1"
0.0781"
1

1/2

"
1

1/2

"
0.320"
Connecting Fasteners Included
0000000
000000

Wire Mesh

Wd.

Floor Clearance
When
Assembled

Ht.

Wd.

Wire


Dia.

Ht.

Wd.

T-Slot




Wd.

Mounting
Hardware
Choose
a
Color
Each

Wire

Mesh—

PVC-Coated

Steel

3'0"
6"
1"
1"
0.0781"
1

1/2

"
1

1/2

"
0.320"
Connecting Fasteners Included
0000000
0000000
4'0"
6"
1"
1"
0.0781"
1

1/2

"
1

1/2

"
0.320"
Connecting Fasteners Included
0000000
000000

Wire

Mesh—

PVC-Coated

Steel

3'0"
6"
1"
1"
0.0781"
1

1/2

"
1

1/2

"
0.320"
Connecting Fasteners Included
0000000
000000
4'0"
6"
1"
1"
0.0781"
1

1/2

"
1

1/2

"
0.320"
Connecting Fasteners Included
0000000
000000