Welding Chaps

Back

Front
Protect the front of your legs against radiant heat, flames, and welding sparks. Made of flexible leather, these chaps resist cuts and abrasion. They have adjustable straps at the waist and on the legs to modify the fit, as well as buckles for a quick release.
When measuring outer seam length, measure from the waist to your ankle. Find your waist size by measuring just above the top of your hip bone. Take all measurements over any clothing you expect to wear under the chaps.
Material
Inseam
Outer
Seam
Closure
Type
Cuff
Style
Features
Color
Size
Each
Leather
29"
39"
Buckle
Open
Adjustable Leg Straps, Adjustable Waist Strap
Brown
One Size
0000000
000000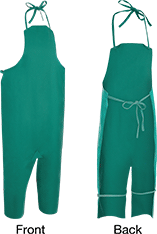 Cotton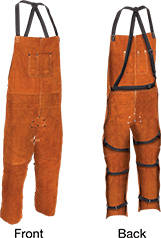 Leather
These aprons extend past the knees and wrap around each leg, providing better coverage and allowing for better mobility than other aprons.
Cotton is treated to protect against low radiant heat and minor sparks. It's lightweight and breathable to keep you cool. These aprons have a tie on the neck, waist, and on each leg.
Leather protects against radiant heat, flames, and welding sparks. It's flexible and resists cuts and abrasion better than cotton. These aprons have adjustable neck, waist, and leg straps. A buckle on the waist and leg straps allows for a quick release. Aprons have two chest pockets.
Lg.

Wd.

Closure
Type
Features
Color
Size
Each

Cotton Fabric

36"
24"
Tie
__
Green
One Size
0000000
000000
42"
24"
Tie
__
Green
One Size
0000000
00000
48"
24"
Tie
__
Green
One Size
0000000
00000

Leather

36"
24"
Buckle
Adjustable Leg Straps, Adjustable Neck Strap, Adjustable Waist Strap, Two Chest Pockets
Brown
One Size
0000000
00000
42"
24"
Buckle
Adjustable Leg Straps, Adjustable Neck Strap, Adjustable Waist Strap, Two Chest Pockets
Brown
One Size
0000000
00000
48"
24"
Buckle
Adjustable Leg Straps, Adjustable Neck Strap, Adjustable Waist Strap, Two Chest Pockets
Brown
One Size
0000000
00000