About
Flame-Resistant

Arc-Rated

Personal Protection
Shop Beanies

Solid

Camouflage

USA
These beanies are designed for a snug fit and made of cotton for good breathability.
When measuring hat size, measure just above your ear, where the hat will rest. If you are between sizes, order one size up.
Flame-

and

Arc-Flash-Protection

Tie Caps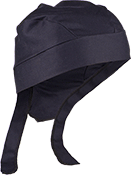 Rated NFPA 70E, these tie caps shield hair from electrical arc flashes, low radiant heat, and minor sparks. Made of cotton, they have an adjustable rear tie to securely fit most heads. They also have two layers of cotton around the forehead for added comfort. These caps remain flame resistant through up to 50 washes.
Material
Arc
Rating, cal/cm2
Arc Rated
PPE
Category
Closure
Type
Specifications
Met
Color
Size
Each
Cotton Fabric
7.2
1
Adjustable Tie
NFPA 70E
Dark Blue
One Size
00000000
000000