Electric Welding Positioners
Mount a workpiece on these motorized turntables for smooth and continuous 360° rotary motion useful for creating circular welds. Turntables tilt and lock in place at angles up to 90° in 15° increments. Once the workpiece is attached to the turntable or chuck, press the foot pedal to start the motor. As the part rotates, your hands are free to focus on the weld.
Load capacity is reduced as the table is tilted.
Positioners with a remote control box let you control the turntable cordlessly.
Use the optional three-jaw chuck to grip the outside of round items or the inside of pipe.
Fixturing Tables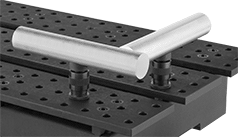 Adjustable-Height
Risers and
V-Blocks
Add components such as clamps, brackets, stops, rests, mounting plates, fixturing squares, risers, and V-blocks to build fixtures for welding and assembly.
Portable Fixturing Tables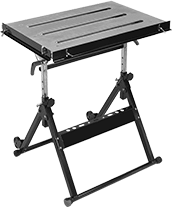 Foldable for transport and storage, use these tables as a sturdy work surface for welding, assembly, cutting, and other tasks around your facility. They have center slots for holding workpieces using C- and bar clamps, a tilting top, and rails on two sides that can be used as guides, stops, and clamping edges.
Use a connector plate (sold separately) to join two tables together for a larger work surface.
Drop-In

Bar-Style

Hold-Down

Clamps for Workholding Tables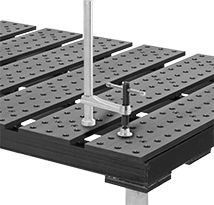 For 16
mm and 28 mm Round Holes
The base fits into holes on most workholding and welding tables for clamping anywhere on the work surface. The clamping arm slides freely along the bar for quick positioning. Use the handle for final tightening.
Max.

Clamping
Clearance
Reach
Holding


Capacity,

lbs.

Size
Shape
Body
Material
Each
8"
4"
650
16mm
Round
Steel
0000000
000000