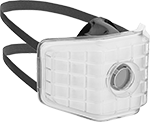 Designed to fit easily under welding helmets, this respirator has a large surface area, which minimizes breathing resistance. Replace the filter when breathing through these respirators becomes difficult. Separate intake and outflow channels keep exhaled air from saturating the filter, so air remains cool and dry.
Fitted with an N99 filter, this respirator filters out 99% of solid particles. It is not oil resistant.
Powered
Air-Purifying

Respirators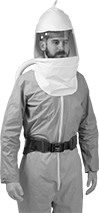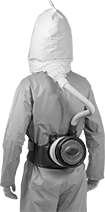 These mobile respirators filter contaminants to deliver breathable air without the need for an air line connection. The pump sits on your back to allow unrestricted movement, so these respirators are often used in welding, painting, and pharmaceutical applications. Made of Tychem 2000 (formerly known as Tychem QC), these hood respirators have two layers: an outer bib for overspray protection and an inner bib that tucks into your clothing for splash protection. Respirators include a rechargeable lithium ion (Li-Ion) battery that provides approximately four hours of continuous use when fully charged. Respirators have a ratchet suspension that adjusts with an easy-turn knob.
For
Use
With
NIOSH
Approval
Size
Hat
Size
Material
Construction
Power
Source
Batteries
Included
Each
Solid Particles
TC-21C-0836
One Size
6-8

1/4

PETG Plastic
Solid
Battery
Yes
0000000
000000000
Solid Particles, Organic Vapors
TC-23C-2510
One Size
6-8

1/4

PETG Plastic
Solid
Battery
Yes
0000000
00000000