Wet Erase

Calendar Sheets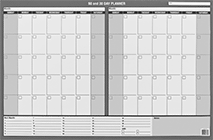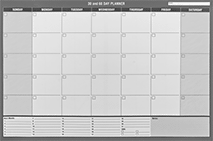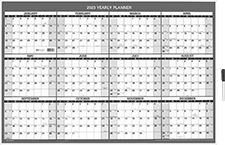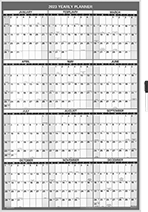 Jot down appointments and deadlines with a wet erase marker, and wipe these sheets clean with a damp cloth. They're reversible, so you can use both sides to keep track of important dates. Unlike dry erase sheets, the semi-permanent writing won't rub off on fingers, sleeves, or dry surfaces.
30- and 60-day calendars have blank date boxes, so you can fill in current dates at any point in the year.
365-day calendars have a full year on both sides—one side has a vertical layout, and the other is horizontal.
No.

of Usable
Sides

Wd.

Ht.

Calendar
Year
Color
Magnetic
Writing Surface
Includes
Each
Each
2
36"
24"
__
White
No
Black Wet Erase Marker
0000000
000000
0000000
00000
2
36"
24"
2023
White
No
Black Wet Erase Marker
0000000
00000
0000000
0000
2
48"
32"
2023
White
No
Black Wet Erase Marker
0000000
00000
0000000
0000