Arbor Hole Reducers for Wheel Brushes
Reduce the arbor hole size of a wheel brush so that it fits the shaft of your tool.
Steel reducers come in pairs. To install, snap a reducer into the arbor hole on both sides of the wheel brush.
Arbors for Nonsparking Wheel Brushes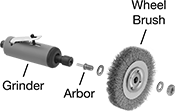 Made of nonsparking aluminum-bronze, use one of these arbors to mount a nonsparking wheel brush with an arbor hole to hand-held drills and die grinders. They satisfy OSHA requirements that specify nonsparking tools for locations where flammable vapors and combustible residues are present. Arbors are also known as mandrels.
For technical drawings and 3-D models, click on a part number.
For Arbor
Hole Size
Shank


Dia.

For

Max.

Wheel
Brush

Thick.

Overall


Lg.

Each

1/2

"

1/4

"

1/2

"
1"
0000000
00000