Wheel Bearings
Replace worn or damaged wheel bearings to keep your equipment rolling. Use flanged bearings and ball bearings in pairs. Change the axle diameter with wheel reducer bushings (sold separately).
Note: Not for use in towing applications.
For impact-resistant tapered roller bearings, as well as other bearing materials and sizes, please see Ball and Roller Bearings and Sleeve Bearings. Roller bearings provide smooth rolling.
Retaining washers hold roller bearings in place.
For technical drawings and 3-D models, click on a part number.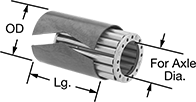 Roller Bearing