Steel-Hub

Pneumatic Wheels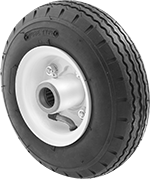 Wheel with Bearing


Diagonal
Block
Tread Pattern

These wheels consist of an air-filled rubber tire on a steel rim and are among the quietest, most shock-absorbing wheels available.
Tires with an inner tube are more puncture resistant than tubeless tires. Ball bearings are the easiest to roll.
Center-mount hubs are symmetrical for equal clearance on both sides of the wheel.
Two-piece rims consist of two pieces bolted together so the wheels can be quickly repaired or replaced.
Tires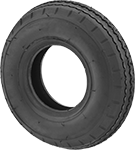 Diagonal
Block
Tread Pattern
Replace worn tires on pneumatic wheels.
Dia.

Wd.

Tire Size
Tread Pattern
Hardness
Rating
Wheel
Color
Nonmarking
Wheels

Wheel/Tread


Material
Each

Tubeless Style

11

1/2

"
3

3/8

"
4.10/3.50-5
Diagonal Block
Soft
Black
No
Rubber
0000000
000000