Polyurethane Pallet and Lift Truck Wheels


Replace worn or broken wheels on your equipment—these wheels are designed to fit specific models of pallet and lift trucks. They have a hard metal core for strength and a polyurethane tread that combines the abrasion resistance of plastic with the shock-absorbing qualities of rubber.
Wheels have ball bearings for smooth rolling.
Sealed bearings are completely sealed for the best protection against dust and debris.
Also Available: Other manufacturers' wheels not shown. Please ask for 2670T999 and specify the manufacturer's name, part number, and wheel size.
For Manufacturer
Model Number

Dia.

Wd.

Hub


Lg.

Cap.

per


Wheel,




lbs.

Hardness
Nonmarking
Wheels

Temp.




Range,




°F

For
Axle


Dia.

Each

With Ball Bearings

BT (10100, 10265, 33010, 47153, 47963)
3

3/8

"
3

13/16

"
3

13/16

"
1,600
Durometer 90A
Yes
-10° to 130°

25/32

"
00000000
000000
Yale (1213591, 5013380)
3

3/8

"
2

3/4

"
2

3/4

"
1,100
Durometer 90A
Yes
-10° to 130°

63/64

"
00000000
00000
Dial-Indicating

Hand Wheels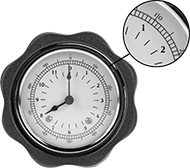 Solid Wheel

An easy-to-read dial provides accurate settings for monitoring the number of wheel turns. Just like the hands of a clock, the long hand goes around the dial once for each turn of the hand wheel and the short hand goes around the dial once every 12 turns. Use these hand wheels to manually adjust valves, presses, and machine components. Made of aluminum, all have mild corrosion resistance, are lightweight, and are nonmagnetic.
Solid hand wheels won't catch hands or material.
For technical drawings and 3-D models, click on a part number.
Hole


Dia.

Dia.

Projection

Dia.

Projection
Color
Dial Material
Set Screw
Included
Each

Unthreaded Through

Hole—

Solid

3/8

"
3

3/8

"
2

3/8

"
1

1/8

"

1/2

"
Black
Acrylic Plastic
Yes
0000000
0000000

1/2

"
3

3/8

"
2

3/8

"
1

1/8

"

1/2

"
Black
Acrylic Plastic
Yes
0000000
000000

5/8

"
3

3/8

"
2

3/8

"
1

1/8

"

1/2

"
Black
Acrylic Plastic
Yes
0000000
000000