About
Flow-Adjustment

Valves
Snap-Shut

Threaded

Flow-Adjustment

Valves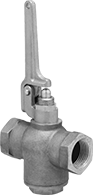 Pull-Activated
Lever Handle

Push-
Activated Lever Handle
Also known as whistle valves, these open and throttle as force is applied to the lever and automatically close upon release. They're commonly used for spraying, washing, and other applications that require manual discharge of liquid and air. All have a nonrising stem that stays in the same position whether the valve is open or closed.
Pull-activated lever handles open the valve when you pull the handle upward. Attach a cord or chain to the hole in the handle for remote operation.
Push-activated lever handles open the valve as downward pressure is applied.
For technical drawings and 3-D models, click on a part number.
Valve

Type:

Globe

For Use

With:

Water,

Oil,

Air,

Argon,

Helium,

Krypton,

Neon,

Xenon
Pull-Activated


Lever Handle

Push-Activated


Lever Handle

Pipe
Size

Max.

Pressure
Temperature


Range,

°F

End-to-End




Lg.

Stem Type
Each
Each

NPT Female × NPT Female

1/4

150 psi @ 60° F
0° to 200°
2

3/16

"
Nonrising
0000000
000000
0000000
000000

1/4

400 psi @ 60° F
0° to 200°
2

3/16

"
Nonrising
0000000
00000
0000000
00000

3/8

150 psi @ 60° F
0° to 200°
2

3/16

"
Nonrising
0000000
00000
0000000
00000

3/8

400 psi @ 60° F
0° to 200°
2

3/16

"
Nonrising
0000000
00000
0000000
00000

1/2

150 psi @ 60° F
0° to 200°
3"
Nonrising
0000000
000000
0000000
000000

1/2

400 psi @ 60° F
0° to 200°
3"
Nonrising
0000000
000000
0000000
000000

3/4

150 psi @ 60° F
0° to 200°
3

1/8

"
Nonrising
0000000
000000
0000000
000000

3/4

400 psi @ 60° F
0° to 200°
3

1/8

"
Nonrising
0000000
000000
0000000
000000
1

150 psi @ 60° F
0° to 200°
4"
Nonrising
0000000
000000
0000000
000000
1

400 psi @ 60° F
0° to 200°
4"
Nonrising
0000000
000000
0000000
000000