Privacy Strips and Screens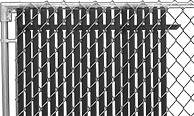 Privacy strips slide in vertically.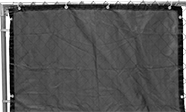 Privacy screens have grommets to tie the screen to a fence (ties not included).
Mesh Tarps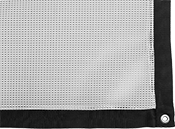 These tarps are often used as truck and flatbed covers, cargo netting, and wind screens.
Polyester tarps are stronger than polyethylene. Vinyl-coated polyester tarps resist deterioration and remain flexible in low temperatures.
Wd.

Lg.

Wd.

Ht.

ID
Spacing
Material
Water
Resistance
Breathable
UV
Resistant

Wd.

Color
Light
Blocked

Min.


Temperature
for Flexibility
Choose
a
Color
Each

Sheet

Polyethylene Mesh

5'8"
7'8"

1/16

"

1/16

"

1/2

"
2'
Brass
None
Yes
No
2"
__
60%
Not Rated
Black
0000000
000000
7'8"
9'8"

1/16

"

1/16

"

1/2

"
2'
Brass
None
Yes
No
2"
__
60%
Not Rated
Black
0000000
00000
9'8"
11'8"

1/16

"

1/16

"

1/2

"
2'
Brass
None
Yes
No
2"
__
60%
Not Rated
Black
0000000
00000
9'8"
15'8"

1/16

"

1/16

"

1/2

"
2'
Brass
None
Yes
No
2"
__
60%
Not Rated
Black
0000000
000000
9'8"
17'8"

1/16

"

1/16

"

1/2

"
2'
Brass
None
Yes
No
2"
__
60%
Not Rated
Black
0000000
000000
11'8"
15'8"

1/16

"

1/16

"

1/2

"
2'
Brass
None
Yes
No
2"
__
60%
Not Rated
Black
0000000
000000
11'8"
25'8"

1/16

"

1/16

"

1/2

"
2'
Brass
None
Yes
No
2"
__
60%
Not Rated
Black
0000000
000000
15'6"
23'8"

1/16

"

1/16

"

1/2

"
2'
Brass
None
Yes
No
2"
__
60%
Not Rated
Black
0000000
000000

Polyester Mesh

3'
6'

1/4

"

1/4

"

3/8

"
2'
Brass
None
Yes
Yes
2"
Black
40%
Not Rated
White
0000000
00000
4'
4'

1/4

"

1/4

"

3/8

"
2'
Brass
None
Yes
Yes
2"
Black
40%
Not Rated
White
0000000
00000
4'
8'

1/4

"

1/4

"

3/8

"
2'
Brass
None
Yes
Yes
2"
Black
40%
Not Rated
White
0000000
00000
6'
8'

1/4

"

1/4

"

3/8

"
2'
Brass
None
Yes
Yes
2"
Black
40%
Not Rated
White
0000000
00000
8'
10'

1/4

"

1/4

"

3/8

"
2'
Brass
None
Yes
Yes
2"
Black
40%
Not Rated
White
0000000
00000
8'
12'

1/4

"

1/4

"

3/8

"
2'
Brass
None
Yes
Yes
2"
Black
40%
Not Rated
White
0000000
00000
10'
12'

1/4

"

1/4

"

3/8

"
2'
Brass
None
Yes
Yes
2"
Black
40%
Not Rated
White
0000000
000000
10'
16'

1/4

"

1/4

"

3/8

"
2'
Brass
None
Yes
Yes
2"
Black
40%
Not Rated
White
0000000
000000
10'
20'

1/4

"

1/4

"

3/8

"
2'
Brass
None
Yes
Yes
2"
Black
40%
Not Rated
White
0000000
000000

Vinyl-Coated

Polyester Mesh

3'
6'

1/16

"

1/16

"

3/8

"
2'
Brass
None
Yes
No
2"
__
55%
-20° F
0000000
00000
6'
8'

1/16

"

1/16

"

3/8

"
2'
Brass
None
Yes
No
2"
__
55%
-20° F
0000000
00000
8'
10'

1/16

"

1/16

"

3/8

"
2'
Brass
None
Yes
No
2"
__
55%
-20° F
0000000
00000
10'
12'

1/16

"

1/16

"

3/8

"
2'
Brass
None
Yes
No
2"
__
55%
-20° F
0000000
000000
10'
16'

1/16

"

1/16

"

3/8

"
2'
Brass
None
Yes
No
2"
__
55%
-20° F
0000000
000000
10'
20'

1/16

"

1/16

"

3/8

"
2'
Brass
None
Yes
No
2"
__
55%
-20° F
0000000
000000
12'
16'

1/16

"

1/16

"

3/8

"
2'
Brass
None
Yes
No
2"
__
55%
-20° F
0000000
000000
12'
24'

1/16

"

1/16

"

3/8

"
2'
Brass
None
Yes
No
2"
__
55%
-20° F
0000000
000000
20'
20'

1/16

"

1/16

"

3/8

"
2'
Brass
None
Yes
No
2"
__
55%
-20° F
0000000
000000