Stands for Hand Sanitizer Dispensers
Mount hand sanitizer and wipe dispensers near your facility's entrance to help people follow good sanitizing practices and limit the spread of illness. These stands go wherever they're most convenient. All have a drip tray to protect tables and floors, as well as a square base to keep them from tipping over. Hand sanitizer dispensers and wipes are not included.
Stands for sanitizer wipes hold standard-size wipe containers.
Aluminum and steel stands are more durable than plastic stands.
Stands with felt pads prevent scratches to tabletops and floors.
Display signs in stands that have a frame. They catch people's attention from a distance, so they know where to go to sanitize their hands.
Floor Stand
for Wipe
Dispenser
Height
Width
Depth
For Maximum
Container Diameter
Material
Base
Material
Features
Each

For Wipe Dispensers

44"
12"
12"
4

1/4

"
Aluminum
Steel
Drip Tray, Felt Pads
0000000
000000
Hand Sanitizers

Pail
Hand sanitizers work without water or rinsing, killing 99.99% of common germs and bacteria. They are alcohol based and dry instantly.
They cannot be sold outside the United States due to product registration requirements.
Type

No.

of
Wipes
Cannot Be Sold To
Each

Wipe

Pail
175
Outside United States
0000000
000000
Dispensers for Wipes
Help people disinfect hands, clean equipment, and sanitize surfaces such as shopping cart handles in order to reduce the spread of illness. These dispensers have a dispensing grommet that makes it easy to tear off a wipe without touching the dispenser itself. The grommet also keeps wipes standing upright and prevents them from falling back inside, so you don't have to repeatedly thread the wipes through. To refill the wipes, these dispensers have a lift-off lid. Wipes are not included.
Stainless steel dispensers stand up to frequent use, and water and cleaning chemicals won't rust or corrode them. They have a built-in waste receptacle for tossing used wipes. To prevent scratches to floors, they have a rubber bottom.
Steel dispensers resist the wear and tear of high-traffic areas better than stainless steel dispensers because they're stronger and more rugged. To prevent rusting from water and cleaning chemicals, their lid is stainless steel, and their body has a powder-coated finish for light corrosion resistance. However, powder-coated steel is not as corrosion resistant as stainless steel since the coating wears away over time. These dispensers have a storage compartment below the dispensing area for keeping extra wipes. Their rubber feet prevent scratches to floors and slightly elevate dispensers, which lets air circulate and prevents mildew from growing. Pair these dispensers with metal waste containers for a convenient spot to throw used wipes.
For technical drawings and 3-D models, click on a part number.

Stainless Steel
Diameter
Height
Diameter
Length
Type
Material
Each
10"
28"
9

1/2

"
8

1/2

"
Lift Off
Stainless Steel
0000000
0000000
Metal-

and

X-Ray-Detectable

Dispensers for Wipes

Flip the lid to grab a wipe. These dispensers hold a roll of disposable wipes, such as disinfecting or degreasing wipes. They're often used in food-processing and pharmaceutical plants because they contain metal and chemical additives, so if any part of them falls into your line by accident, it'll set off metal detectors and show up on X-rays. Blue in color, they're easy to find and retrieve. These dispensers help you comply with Hazard Analysis and Critical Control Point (HACCP) programs to keep contaminated food from leaving your facility. They're also FDA compliant for direct contact with food.
Capacity,




oz.

Diameter
Height
Color
Type
Material
Color
Autoclavable
Maximum


Temperature,




°F

Specifications
Met
Each

Polypropylene Plastic

205
3

1/8

"
6

3/4

"
Blue
Tight Fitting
Polypropylene Plastic
Blue
No
212°
FDA Compliant 21 CFR 177.1520, FDA Compliant 21 CFR 178.2010, FDA Compliant 21 CFR 178.3297
0000000
00000
545
4

9/32

"
9

1/2

"
Blue
Tight Fitting
Polypropylene Plastic
Blue
No
212°
FDA Compliant 21 CFR 177.1520, FDA Compliant 21 CFR 178.2010, FDA Compliant 21 CFR 178.3297
0000000
00000
Roll Dispensers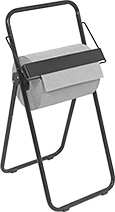 Roll not Included
Easily store and unroll the amount of wipes you need—works with all the wipe rolls we sell.
Wd.

Dp.

Ht.

Color
Material
Each
17"
18

1/2

"
33"
Black
Painted Steel
0000000
000000
Dispensers for Folded Clean Room Wipes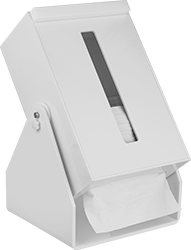 Dispenser
Dispense folded clean room wipes one at a time to reduce cross contamination and waste. These dispensers are cleaned and double bagged in a clean room to ensure that they're sterile. Because they're antistatic, they won't damage equipment that's sensitive to electrostatic charges. Place them on any flat surface with the weighted base, or mount them on the wall to save counter space. They're front loading, so you don't need to feed wipes down the chute, which can lead to tangling. Dispensing angle is adjustable and locks in place—tilt it so that wipes are accessible. A weighted tamper presses down on the stack of wipes, so it's easy to grab one even when they're running low. A clear window shows you how many wipes are left. Wipes not included.
Height
Width
Depth
Length
Width
For Maximum
Number
of Wipes
Color
Fasteners
Included
Hole
Diameter
Number
of
Holes
Environmental
Rating
Each
18"
11"
11"
9"
4

1/2

"
250
Off-White
No

1/2

"
4
Fed. Std. Class 100, ISO Class 5
00000000
0000000
Wipe Box Holders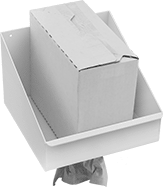 With a hole in the bottom for convenient dispensing, these holders can accommodate boxes of wipes or rags.
For technical drawings and 3-D models, click on a part number.
Wd.

Dp.

Wd.

Ht.

Dp.

Material

No.

of Mounting
Holes
Screw
Size
Mounting
Fasteners Included
Each

Wall Mount

9

1/4

"
9

1/4

"
9

3/4

"
7"
9

3/4

"
White Powder-Coated Steel
2
No. 10

No
0000000
000000