Kill bacteria, viruses, and fungi. Some of these cleaners also remove dirt. They cannot be sold to the regions listed because they exceed local regulatory limits on VOCs (volatile organic compounds).
Type

Lg.

Wd.

Wipes per
Container
Composition
Harshness
For Use On
For
Removing
Cannot Be Sold To
Each

Wipe

Canister
8"
7"
35
Water Based
Mild
Aluminum, Brass, Bronze, Ceramic, Chrome, Copper, Galvanized Steel, Glass, Linoleum, Painted Surfaces, Plastic, Porcelain, Stainless Steel, Steel, Stone, Terrazzo, Vinyl, Waxed Floors, Wood
Bacteria, Dirt, Viruses
Outside United States
0000000
00000
Gel Removers

for

Gel-Filled

Cables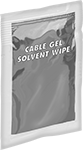 Packet
Remove gels, blocking and filling compounds, dirt, grease, oil, tar, and wax often found in or on outdoor telecommunications cables before splicing them together to make a reliable connection. These solvent-based removers are safe to use on cable insulation and components, metals, and most plastics. All rinse clean with water.
Wipes come ready to use. Simply wipe them on your cables.
Container
Type
Length
Width
Composition
Harshness
For
Use
On
For
Removing
Cannot
Be
Sold To

Pkg.




Qty.

Pkg.

Wipe

Packet
11"
8"
Solvent Based
Moderate
Aluminum, Brass, Bronze, Chrome, Copper, Iron, Plastic, Stainless Steel, Steel
Dirt, Grease/Oil, Tar, Wax
Canada
12
00000000
000000