Harsh Environment
High-Current

Distribution Bars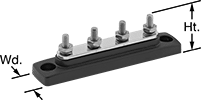 One Circuit
with Stud Terminals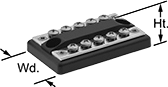 Two Circuits
with Screw Terminals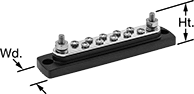 One Circuit
with Stud and Screw Terminals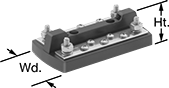 Two Circuits
with Stud and Screw Terminals
Protect connections against corrosion. These bars are tin-plated copper and have stainless steel terminals. Also known as bus bars, they serve as connection points between wires with ring or spade terminals. The underside is sealed, so the bars can be safely mounted to conductive surfaces.
Covers protect the top of the bar and prevent accidental contact with live circuits.
For technical drawings and 3-D models, click on a part number.
300V
AC
48V
DC

No.


Per
Circuit
Size

Lg.

Wd.

Ht.

Mounting
Fasteners
Included

Dia.

No.


of
Specifications
Met
Each
Each

Stud Terminals

100A
100A
4
No. 10
4

3/16

"

7/8

"
1

1/8

"
No
0.21"
2
CE Marked

0000000
000000
0000000
00000
130A
150A
4

1/4

"
5

7/8

"
1

1/4

"
1

1/2

"
No
0.21"
2
CE Marked

0000000
00000
0000000
0000
250A
250A
4

5/16

"
5

7/8

"
1

1/2

"
1

11/16

"
No
0.21"
2
CE Marked

0000000
00000
0000000
00000
250A
250A
6

5/16

"
7

3/4

"
1

1/2

"
1

11/16

"
No
0.21"
2
CE Marked

000000
00000
0000000
00000
300V
AC
48V
DC

No.


Per
Circuit
Size

Lg.

Wd.

Ht.

Mounting
Fasteners
Included

Dia.

No.


of
Specifications
Met
Each
Each

Screw Terminals

100A
100A
5
No. 8
3"
1

13/16

"

9/16

"
No
0.21"
2
CE Marked

0000000
000000
0000000
000000
100A
100A
10
No. 8
5

1/16

"
1

13/16

"

9/16

"
No
0.21"
2
CE Marked

0000000
00000
0000000
00000
300V
AC
48V
DC

No.


Per
Circuit
Size

No.


Per
Circuit
Size

Lg.

Wd.

Ht.

Mounting
Fasteners
Included

Dia.

No.


of
Specifications
Met
Each
Each

Stud and Screw Terminals

100A
100A
2
No. 10
5
No. 8
4

3/16

"

7/8

"
1

1/8

"
No
0.21"
2
CE Marked

0000000
000000
0000000
00000
130A
150A
2

1/4

"
10
No. 8
5

7/8

"
1

1/4

"
1

1/2

"
No
0.21"
2
CE Marked

0000000
00000
0000000
0000
130A
150A
2

1/4

"
20
No. 8
9

1/8

"
1

1/4

"
1

1/2

"
No
0.21"
2
CE Marked

0000000
00000
0000000
0000
250A
250A
2

5/16

"
6
No. 10
5

7/8

"
1

1/2

"
1

11/16

"
No
0.21"
2
CE Marked

000000
00000
0000000
00000
250A
250A
2

5/16

"
12
No. 10
7

3/4

"
1

1/2

"
1

11/16

"
No
0.21"
2
CE Marked

0000000
00000
0000000
00000
545A
600A
4

3/8

"
4
No. 8
7"
2"
2"
No
0.26"
4
CE Marked

000000
000000
0000000
00000
545A
600A
8

3/8

"
4
No. 8
11

3/8

"
2"
2"
No
0.26"
4
CE Marked

000000
000000
000000
00
130A
150A
2

1/4

"
5
No. 10
4

7/8

"
2

9/16

"
1

1/4

"
No
0.21"
2
CE Marked

0000000
00000
000000
00