Wire Ferrule Crimpers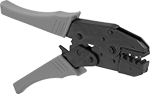 These crimpers have individual square crimping slots for each wire gauge.
Confined-Space

Wire Ferrule Crimpers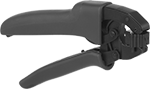 Self-Adjusting
Trapezoidal Crimping Slot

Self-Adjusting
Square Crimping Slot
Because you insert the wire ferrule from the front, this tool is useful in tight spaces. It automatically adjusts to the proper crimp size for different wire ferrules.
For Wire Gauge


(Connector Insulation)

For Wire Type

Lg.

Crimp


Lg.

Material
Grip Material
Features
Each

Ratcheting

__
Solid, Stranded
7"
0.71"
Steel
Plastic
Self-Adjusting Trapezoidal Crimping Slot
0000000
0000000
28-7 (Insulated)
28-7 (Noninsulated)
Solid, Stranded
7

1/2

"
0.42"
Steel
PVC Plastic
Self-Adjusting Square Crimping Slot
0000000
000000
Quick-Change

Terminal and Splice Ratchet Crimpers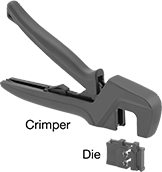 Dies snap in and out of this tool, so you can quickly change from crimping one electrical connector type to another. The ratchet applies the correct pressure to ensure a complete crimp every time.
Dies are one piece and marked with a drawing of the connector type for easy identification.
For Connector Type
For Wire Gauge


(Connector Insulation)

For Terminal Type
For

Quick-Disconnect


Tab

Wd.

Each
Terminal
26-18 (Noninsulated)
Quick Disconnect
0.11"
0000000
000000
Terminal
24-8 (Insulated)
24-8 (Noninsulated)
Ferrule
__
0000000
00000
Terminal
22-14 (Noninsulated)
Quick Disconnect
0.187"
0000000
00000
Terminal
22-10 (Noninsulated)
Quick Disconnect
0.25"
0000000
00000
Terminal
6-4 (Insulated)
6-4 (Noninsulated)
Ferrule
__
0000000
00000
Terminal
2-1/0 (Insulated)
2-1/0 (Noninsulated)
Ferrule
__
0000000
00000
Terminal
Crimp-On Butt Splice
26-22 (Insulated)
12-10 (Insulated)
Ring, Spade
__
0000000
00000
Terminal
Crimp-On Butt Splice
22-14 (Insulated)
Ring, Spade
__
0000000
00000
Terminal
Crimp-On Butt Splice
22-10 (Noninsulated)
Ring, Spade
__
0000000
00000
RJ45
__
__
__
0000000
00000