Wireless Keyboards
No need to wrangle cords—you can move these keyboards freely around your work space.
Ergonomic keyboards position your hands for improved comfort.
Use hand-held keyboards to control computers from up to 65 feet away. They have an integrated trackpad, so you don't need a separate mouse.
Liquid-resistant keyboards stand up to coffee, water, soda, and other spills.

Standard Keyboard and Mouse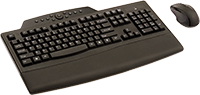 Standard Keyboard and Mouse with Wrist Rest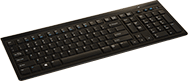 Slim Keyboard

Slim Keyboard
Color
Connection
Type

Wd.

Dp.

Features
Includes
Each
Black
USB
17"
6"
Low-Profile Keys
USB Receiver
00000000
000000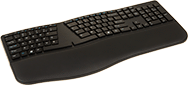 Ergonomic Keyboard
(Black)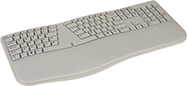 Ergonomic Keyboard
(Gray)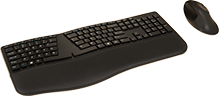 Ergonomic Keyboard and Mouse
(Black)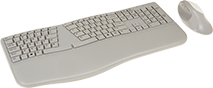 Ergonomic Keyboard and Mouse
(Gray)
Color
Connection
Type

Wd.

Dp.

Features
Includes
Each

Keyboard

Black
Bluetooth, USB
18"
7

3/4

"
Liquid-Resistant Coating, Low-Profile Keys, Padded Wrist Rest
USB Receiver
00000000
000000
Gray
Bluetooth, USB
18"
7

3/4

"
Liquid-Resistant Coating, Low-Profile Keys, Padded Wrist Rest
USB Receiver
00000000
00000

Keyboard and Mouse

Black
Bluetooth, USB
18"
7

3/4

"
Liquid-Resistant Coating, Low-Profile Keys, Padded Wrist Rest
USB Receiver
00000000
000000
Gray
Bluetooth, USB
18"
7

3/4

"
Liquid-Resistant Coating, Low-Profile Keys, Padded Wrist Rest
USB Receiver
00000000
000000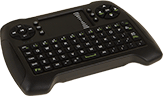 Color
Connection
Type

Wd.

Dp.

Features
Includes
Each
Black
USB
6"
4

1/4

"
Low-Profile Keys, Integrated Trackpad
USB Receiver
00000000
000000