Scaffold Planks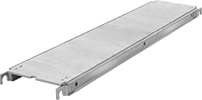 Hooks with a 2" opening at each end secure planks to end frames. Rungs on the underside are for use as hand grips. Plywood is 1/2" thick.
Note: Length is measured from center-to-center of end hooks.
Note: Planks meet OSHA dimensional standards. Users are responsible for checking local, state, and federal codes, including OSHA, for safe installation and operating practices.
Lg.,




ft.

Wd.

Ht.

Cap.,




lbs.

Plank
Tread

Ht.

Material

Wt.,




lbs.

Assembled
or
Unassembled
Features
Specifications
Met
Each

Plywood

7
19

1/16

"
3

1/2

"
250
Smooth
3

1/2

"
Aluminum
27
Unassembled
2" End Hooks
ANSI/ASSP A10.8, OSHA Compliant 29 CFR 1926.451, UL 1322
0000000
0000000
8
19

1/16

"
4

1/2

"
250
Smooth
4

1/2

"
Aluminum
38
Unassembled
2" End Hooks
ANSI/ASSP A10.8, OSHA Compliant 29 CFR 1926.451, UL 1322
0000000
000000
10
19

1/16

"
4

1/2

"
250
Smooth
4

1/2

"
Aluminum
47
Unassembled
2" End Hooks
ANSI/ASSP A10.8, OSHA Compliant 29 CFR 1926.451, UL 1322
0000000
000000