Lights for Electronics Cabinets and Racks
Light

Door Switch
Illuminate your electronics cabinets and racks with long-lasting LED lights. These lights are efficient and won't add heat to your cabinet, protecting your electronics. Turn on the lights with either the switch or the motion sensor, which saves energy by lighting the cabinet only when you're working. Connect a door switch (sold separately) to turn the light on when the door is open, like a refrigerator.
These lights are designed for rails with square holes and snap in without tools. If your cabinet or rack is exposed to vibration and movement, anchor the lights with screws for extra security. A rotating socket helps fit the power cable in crowded spaces.
For technical drawings and 3-D models, click on a part number.
Lg.

Ht.

Wd.

Brightness,


lumens
Light
Appearance
Voltage
Wattage
Material
Color
Mounting
Fasteners
Included
Features
Environmental
Rating
Specifications
Met
Each
Each

Snap-In

or

Screw-Mount

Lights with IEC Plug Connection

13"

7/8

"
2

3/16

"
600
Neutral (4,000K)
100V AC, 240V AC
7W
Aluminum
Black
Yes
Adjustable Socket
IP20
CSA Certified, IEC 60320, UL Listed
000000
0000000
0000000
000000
T-Slotted

Framing Lighting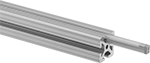 Illuminate workstations, enclosures, and machines.
Concealed lights offer a finished look. Snap-in concealed lights install by pressing them into a T-slot.
For technical drawings and 3-D models, click on a part number.
Single
Double
and
Quad
Triple

Brightness,


lumens

Lg.

Voltage
Wattage
Material
Environmental
Rating
Includes
Each

For LED Bulbs

Snap-In

Concealed

Light—

Hardwire

1

1/2

", 40mm
3", 80mm
4

1/2

"
1,200
19

11/16

"
24V DC
7.5W
Aluminum
IP55
__
0000000
000000
1

1/2

", 40mm
3", 80mm
4

1/2

"
1,200
19

11/16

"
120V AC, 240V AC
7.5W
Aluminum
IP55
Power Supply
0000000
000000
1

1/2

", 40mm
3", 80mm
4

1/2

"
1,200
39

3/8

"
24V DC
15W
Aluminum
IP55
__
0000000
000000
1

1/2

", 40mm
3", 80mm
4

1/2

"
1,200
39

3/8

"
120V AC, 240V AC
15W
Aluminum
IP55
Power Supply
0000000
000000