Heavy Duty Shelf Brackets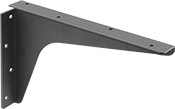 A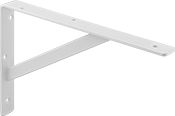 B
These shelf brackets have a 500-lb. capacity—twice the capacity of our other shelf brackets. Mounting position is determined by looking at the shelf on the wall.
Reversible-mount brackets can be mounted on the right or left side of your shelf.
Warning: Capacity may be reduced due to wall material and fastener choice.
For technical drawings and 3-D models, click on a part number.
Dp.

Ht.

Wd.

Cap.,




lbs.

Position
Fasteners
Included
Screw
Size
Each

Black

12"
8"
1

1/2

"
500
Left Side
No
No. 12

00000000
000000
12"
8"
1

1/2

"
500
Right Side
No
No. 12

0000000
00000
24"
18"
1

1/2

"
500
Left Side
No
No. 12

00000000
00000
24"
18"
1

1/2

"
500
Right Side
No
No. 12

0000000
00000

Gray

12"
8"
1

1/2

"
500
Left Side
No
No. 12

00000000
00000
12"
8"
1

1/2

"
500
Right Side
No
No. 12

00000000
00000
24"
18"
1

1/2

"
500
Left Side
No
No. 12

00000000
00000
24"
18"
1

1/2

"
500
Right Side
No
No. 12

00000000
00000
12"
8"
1

1/2

"
500
Left Side
No
No. 12

00000000
00000
12"
8"
1

1/2

"
500
Right Side
No
No. 12

00000000
00000
24"
18"
1

1/2

"
500
Left Side
No
No. 12

00000000
00000
24"
18"
1

1/2

"
500
Right Side
No
No. 12

00000000
00000

White

12"
8"
1

1/2

"
500
Left Side
No
No. 12

00000000
00000
12"
8"
1

1/2

"
500
Right Side
No
No. 12

00000000
00000
24"
18"
1

1/2

"
500
Left Side
No
No. 12

00000000
00000
24"
18"
1

1/2

"
500
Right Side
No
No. 12

00000000
00000

Black

6

7/8

"
5

1/4

"
1

1/8

"
500
Reversible
No
No. 10

00000000
0000
10

1/2

"
7

1/2

"
1

1/16

"
500
Reversible
No
No. 10

00000000
00000
11

7/8

"
8"
1"
500
Reversible
No

5/16

"

0000000
00000
14

1/2

"
10"
1

1/16

"
500
Reversible
No
No. 10

00000000
00000
15

3/4

"
10"
1"
500
Reversible
No

5/16

"

0000000
00000
19

3/4

"
13

1/8

"
1"
500
Reversible
No

5/16

"

0000000
00000
21

3/4

"
14

1/4

"
1"
500
Reversible
No

5/16

"

0000000
00000

Silver

6

7/8

"
5

1/4

"
1

1/8

"
500
Reversible
No
No. 10

00000000
0000
10

1/2

"
7

1/2

"
1

1/16

"
500
Reversible
No
No. 10

00000000
00000
11

5/8

"
8"
1

3/16

"
500
Reversible
No

5/16

"

00000000
00000
14

1/2

"
10"
1

1/16

"
500
Reversible
No
No. 10

00000000
00000
15

1/2

"
10"
1

3/16

"
500
Reversible
No

5/16

"

00000000
00000
19

1/2

"
13

1/8

"
1

3/16

"
500
Reversible
No

5/16

"

00000000
00000
21

1/2

"
14

1/4

"
1

3/16

"
500
Reversible
No

5/16

"

00000000
00000

White

6

7/8

"
5

1/4

"
1

1/8

"
500
Reversible
No
No. 10

00000000
0000
10

1/2

"
7

1/2

"
1

1/16

"
500
Reversible
No
No. 10

00000000
00000
11

7/8

"
8"
1"
500
Reversible
No

5/16

"

0000000
00000
14

1/2

"
10"
1

1/16

"
500
Reversible
No
No. 10

00000000
00000
15

3/4

"
10"
1"
500
Reversible
No

5/16

"

0000000
00000
19

3/4

"
13

1/8

"
1"
500
Reversible
No

5/16

"

0000000
00000
21

3/4

"
14

1/4

"
1"
500
Reversible
No

5/16

"

0000000
00000