Adjustable-Height

Computer Workstations
A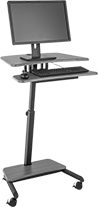 B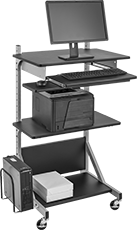 C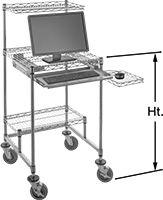 D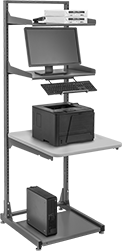 E
Adjust the shelves to accommodate a computer and other electronic equipment.
Style B have cutouts for routing cords.
Style C come with a CPU holder that adjusts from 8"-10" wide for a secure hold.
Style D have a mouse tray that can rotate 360°.
Style E have leveling feet to compensate for uneven floors.
Style

Wd.

Dp.

Ht.

Ht.

O'all




Cap.,




lbs.

Wd.

Dp.

Color
Type


(No. of)

Wd.

Dp.

Cap.,




lbs.

Keyboard
Tray


Dp.

Assembled
or
Unassembled
Each

Mobile

Plastic Laminate Monitor Platform with Black

Powder-Coated

Steel Frame

A
18"
22"
27"-42"
__
25
18"
14"
Black
__
__
__
__
__
Unassembled
0000000
0000000
B
27

1/2

"
22

1/2

"
28

1/2

"-45

1/2

"
__
50
27"
17

1/2

"
Brown Woodgrain
__
__
__
__
9

1/2

"
Unassembled
0000000
000000

Plastic Laminate Monitor Platform with Gray

Powder-Coated

Steel Frame

C
30"
24"
52

1/2

"
__
200
30"
22"
Black
Adjustable (1)
Fixed (1)
30"
23

1/2

"
22"
15

1/2

"
80
40
12"
Unassembled
0000000
000000

Steel Monitor Platform with

Chrome-Plated

Steel Frame

D
23

1/2

"
24"
53

1/2

"
38

1/2

"
825
23

1/2

"
24"
__
Adjustable (1)
Adjustable (1)
Adjustable (1)
23

1/2

"
23

1/2

"
7"
12

1/2

"
14"
7"
200
200
25
11

1/2

"
Unassembled
0000000
000000

Stationary

Steel Monitor Platform with

Gray-Painted

Steel Frame

E
24"
35

1/2

"
75"
__
800
24"
16"
Gray
Adjustable (1)
Adjustable (1)
Fixed (1)
24"
24"
18"
16"
30"
21"
100
100
100
7

1/4

"
Unassembled
0000000
00000000
Optional Casters for Stationary Workstations

Optional Casters
Dia.

Wd.

Mount


Ht.

Cap.

per


Caster,

lbs.

Stem
Thread Size

Stem


Lg.

Wheel/Tread


Material
Caster Type
Each
3"
1

3/16

"
3

7/8

"
250

1/2

"-13

1

1/2

"
Rubber
2 Swivel and 2 Swivel with Brake
0000000
0000000