Adjustable-Height

Folding Tables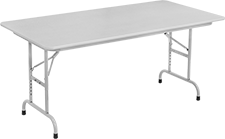 A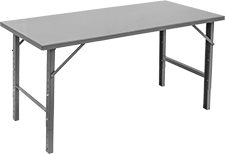 C

White Plastic

Gray Steel
Raise or lower these tables to a comfortable working height.
Plastic tables not only resist impact, stains, and chemicals, but are also lightweight and easy to clean. Position them at a comfortable height for working while seated. To adjust height in 1" increments, push in a button on the legs and slide them.
Steel tables are durable and won't warp. They can support four times as much weight as other adjustable-height folding tables. Configure them for either seated or standing tasks. Remove and reposition the leg bolts to adjust height in 2" increments. To fold the legs, remove the wing nut that secures the leg braces.
Mobility

Ht.

Wd.

Dp.

Overall


Capacity,




lbs.

Gauge

Thick.

Frame
Material

Ctr.-to-Ctr.

Type
Assembled
or
Unassembled
Top
Color
Each

Plastic

A
Stationary
22"-32"
48"
24"
250
__
2

1/2

"
Painted Steel
1"
Push Button
Assembled
White
0000000
0000000
A
Stationary
22"-32"
72"
30"
250
__
2

1/2

"
Painted Steel
1"
Push Button
Assembled
White
0000000
000000
A
Stationary
22"-32"
96"
30"
250
__
2

1/2

"
Painted Steel
1"
Push Button
Assembled
White
0000000
000000
C
Stationary
28"-42"
72"
30"
3,000
12
0.105"
Powder-Coated Steel
2"
Bolt
Assembled
Gray
0000000
000000
C
Stationary
28"-42"
72"
36"
3,000
12
0.105"
Powder-Coated Steel
2"
Bolt
Assembled
Gray
0000000
000000
C
Stationary
28"-42"
84"
36"
3,000
12
0.105"
Powder-Coated Steel
2"
Bolt
Assembled
Gray
0000000
00000000