Stainless Steel Tables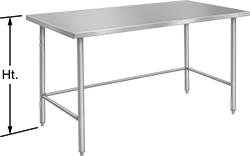 Stationary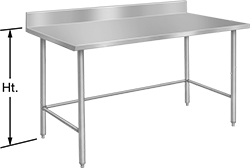 Stationary with Backstop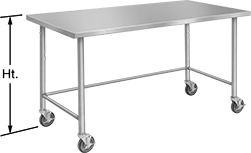 Mobile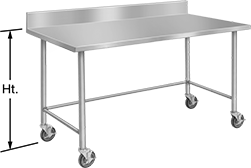 Mobile with Backstop
Without a shelf, these tables provide room to pull up a stool or chair. They withstand chemicals, grease, and repeated washdowns for use in laboratories and food-processing areas. All meet NSF/ANSI standards.
Use these tables as a work surface for machines and equipment. They are the same height as most workbenches, making them a comfortable height for most standing tasks.
Tables with backstop prevent items from sliding off.
Stationary tables have leveling feet to compensate for uneven floors.
For technical drawings and 3-D models, click on a part number.
Ht.

Wd.

Dp.

Backstop


Ht.

Overall


Capacity,




lbs.

Top
Gauge

No.


of
Legs
Foot
Type
Specifications
Met
Assembled
or
Unassembled
Each

Pkg.




Qty.

Pkg.

Stationary

34"
48"
30"
__
400
16
4
Leveling
NSF/ANSI 2

Assembled
0000000
000000000
__
000000
00
34"
48"
30"
5"
400
16
4
Leveling
NSF/ANSI 2

Assembled
0000000
00000000
__
000000
00
34"
60"
30"
__
450
16
4
Leveling
NSF/ANSI 2

Assembled
0000000
00000000
__
000000
00
34"
60"
30"
5"
450
16
4
Leveling
NSF/ANSI 2

Assembled
0000000
00000000
__
000000
00
34"
72"
30"
__
400
16
4
Leveling
NSF/ANSI 2

Assembled
0000000
00000000
__
000000
00
34"
72"
30"
5"
400
16
4
Leveling
NSF/ANSI 2

Assembled
0000000
00000000
__
000000
00
34"
96"
30"
__
800
16
6
Leveling
NSF/ANSI 2

Assembled
0000000
00000000
__
000000
00
34"
96"
30"
5"
800
16
6
Leveling
NSF/ANSI 2

Assembled
0000000
00000000
__
000000
00
36"
48"
30"
__
550
16
4
Leveling
NSF/ANSI 2

Unassembled
0000000
000000
__
000000
00
36"
60"
30"
__
650
16
4
Leveling
NSF/ANSI 2

Unassembled
0000000
000000
__
000000
00
36"
72"
30"
__
675
16
4
Leveling
NSF/ANSI 2

Unassembled
0000000
000000
__
000000
00
36"
96"
30"
__
1,300
16
6
Leveling
NSF/ANSI 2

Unassembled
0000000
000000
__
000000
00

Mobile

34"
48"
30"
__
400
16
4
Caster
NSF/ANSI 2

Assembled
0000000
00000000
__
000000
00
34"
48"
30"
5"
400
16
4
Caster
NSF/ANSI 2

Assembled
0000000
00000000
__
000000
00
34"
60"
30"
__
450
16
4
Caster
NSF/ANSI 2

Assembled
0000000
00000000
__
000000
00
34"
60"
30"
5"
450
16
4
Caster
NSF/ANSI 2

Assembled
0000000
00000000
__
000000
00
34"
72"
30"
__
400
16
4
Caster
NSF/ANSI 2

Assembled
0000000
00000000
__
000000
00
34"
72"
30"
5"
400
16
4
Caster
NSF/ANSI 2

Assembled
0000000
00000000
__
000000
00
36"
48"
30"
__
550
16
4
Caster
NSF/ANSI 2

Unassembled
0000000
000000
4
0000000
0000000
36"
60"
30"
__
650
16
4
Caster
NSF/ANSI 2

Unassembled
0000000
000000
4
0000000
000000
36"
72"
30"
__
675
16
4
Caster
NSF/ANSI 2

Unassembled
0000000
000000
4
0000000
000000