Wood Workbench Tops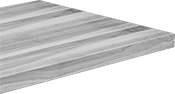 Straight

Radius

Bullnose

Hard Maple

Solid pieces of wood are glued together to ensure durability. All tops are nonconductive, resist impact, and can be sanded and refinished.
Tops that meet NSF/ANSI 2 can be used in food service.
To maintain maple tops, apply mineral oil.
Workbench tops 96" wide and larger require at least three workbench legs.
For technical drawings and 3-D models, click on a part number.
Wd.

Dp.

Cap.,




lbs.

Finish
Color

Mtg.


Fasteners
Included
Environment
Specifications
Met
Choose
a Front
Edge Shape
Each

Hard Maple

24"
24"
750
Mineral Oil
Brown Woodgrain
Yes
__
__
Straight
00000000
0000000
30"
24"
800
Mineral Oil
Brown Woodgrain
Yes
__
__
Straight
00000000
000000
30"
30"
850
Mineral Oil
Brown Woodgrain
Yes
__
__
Straight
00000000
000000
36"
24"
900
Mineral Oil
Brown Woodgrain
Yes
Food Industry
NSF/ANSI 2

000000
000000
36"
30"
1,125
Mineral Oil
Brown Woodgrain
Yes
Food Industry
NSF/ANSI 2

000000
000000
36"
36"
1,350
Mineral Oil
Brown Woodgrain
Yes
Food Industry
NSF/ANSI 2

000000
000000
48"
24"
1,200
Mineral Oil
Brown Woodgrain
Yes
Food Industry
NSF/ANSI 2

0000000
000000
48"
30"
1,500
Mineral Oil
Brown Woodgrain
Yes
Food Industry
NSF/ANSI 2

0000000
000000
48"
36"
1,800
Mineral Oil
Brown Woodgrain
Yes
Food Industry
NSF/ANSI 2

0000000
000000
60"
24"
1,500
Mineral Oil
Brown Woodgrain
Yes
Food Industry
NSF/ANSI 2

0000000
000000
60"
30"
1,875
Mineral Oil
Brown Woodgrain
Yes
Food Industry
NSF/ANSI 2

0000000
000000
60"
36"
2,250
Mineral Oil
Brown Woodgrain
Yes
Food Industry
NSF/ANSI 2

0000000
000000
72"
24"
1,800
Mineral Oil
Brown Woodgrain
Yes
Food Industry
NSF/ANSI 2

0000000
000000
72"
30"
2,250
Mineral Oil
Brown Woodgrain
Yes
Food Industry
NSF/ANSI 2

0000000
000000
72"
36"
2,700
Mineral Oil
Brown Woodgrain
Yes
Food Industry
NSF/ANSI 2

0000000
000000
96"
24"
2,400
Mineral Oil
Brown Woodgrain
Yes
Food Industry
NSF/ANSI 2

0000000
000000
96"
30"
3,000
Mineral Oil
Brown Woodgrain
Yes
Food Industry
NSF/ANSI 2

0000000
000000
96"
36"
3,600
Mineral Oil
Brown Woodgrain
Yes
Food Industry
NSF/ANSI 2

0000000
000000
120"
24"
3,000
Mineral Oil
Brown Woodgrain
Yes
Food Industry
NSF/ANSI 2

0000000
000000
120"
30"
3,750
Mineral Oil
Brown Woodgrain
Yes
Food Industry
NSF/ANSI 2

0000000
000000
120"
36"
4,500
Mineral Oil
Brown Woodgrain
Yes
Food Industry
NSF/ANSI 2

0000000
00000000

Red Oak

60"
30"
2,500
Polyurethane Coated
Brown Woodgrain
Yes
__
__
Bullnose
00000000
000000
72"
30"
3,000
Polyurethane Coated
Brown Woodgrain
Yes
__
__
Bullnose
00000000
000000
72"
36"
3,600
Polyurethane Coated
Brown Woodgrain
Yes
__
__
Bullnose
00000000
000000

Hard Maple

36"
24"
900
Mineral Oil
Brown Woodgrain
Yes
Food Industry
NSF/ANSI 2

000000
000000
36"
30"
1,125
Mineral Oil
Brown Woodgrain
Yes
Food Industry
NSF/ANSI 2

000000
000000
36"
36"
1,350
Mineral Oil
Brown Woodgrain
Yes
Food Industry
NSF/ANSI 2

000000
000000
48"
24"
1,200
Mineral Oil
Brown Woodgrain
Yes
Food Industry
NSF/ANSI 2

0000000
000000
48"
30"
1,500
Mineral Oil
Brown Woodgrain
Yes
Food Industry
NSF/ANSI 2

0000000
000000
48"
36"
1,800
Mineral Oil
Brown Woodgrain
Yes
Food Industry
NSF/ANSI 2

0000000
000000
60"
24"
1,500
Mineral Oil
Brown Woodgrain
Yes
Food Industry
NSF/ANSI 2

0000000
000000
60"
30"
1,875
Mineral Oil
Brown Woodgrain
Yes
Food Industry
NSF/ANSI 2

0000000
000000
60"
36"
2,250
Mineral Oil
Brown Woodgrain
Yes
Food Industry
NSF/ANSI 2

0000000
000000
72"
24"
1,800
Mineral Oil
Brown Woodgrain
Yes
Food Industry
NSF/ANSI 2

0000000
000000
72"
30"
2,250
Mineral Oil
Brown Woodgrain
Yes
Food Industry
NSF/ANSI 2

0000000
000000
72"
36"
2,700
Mineral Oil
Brown Woodgrain
Yes
Food Industry
NSF/ANSI 2

0000000
000000
96"
24"
2,400
Mineral Oil
Brown Woodgrain
Yes
Food Industry
NSF/ANSI 2

0000000
000000
96"
30"
3,000
Mineral Oil
Brown Woodgrain
Yes
Food Industry
NSF/ANSI 2

0000000
000000
96"
36"
3,600
Mineral Oil
Brown Woodgrain
Yes
Food Industry
NSF/ANSI 2

0000000
000000
120"
24"
3,000
Mineral Oil
Brown Woodgrain
Yes
Food Industry
NSF/ANSI 2

0000000
000000
120"
30"
3,750
Mineral Oil
Brown Woodgrain
Yes
Food Industry
NSF/ANSI 2

0000000
000000
120"
36"
4,500
Mineral Oil
Brown Woodgrain
Yes
Food Industry
NSF/ANSI 2

0000000
00000000