Composite Fabrics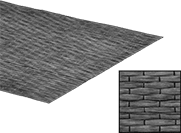 Unidirectional Weave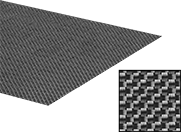 Plain Weave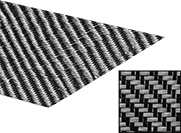 Twill Weave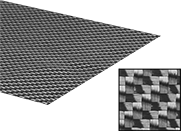 Triaxial Weave
Use these resin-free fabrics to reinforce or repair existing composites as well as create new composites. Mold custom-shaped composite parts by layering your choice of fabric with an epoxy. The epoxy (sold separately) is a two-part resin that begins to harden in 15 hours and reaches full strength in 4 days. Finished composite pieces withstand temperatures up to 250° or 350° F.
Fabrics with a unidirectional weave have most of their fibers running in one direction. This weave is preferred when making tubular parts, such as vehicle frames, where linear strength and rigidity are required. Often referred to as nonwoven fabrics, these fabrics are best for reinforcing applications. However, they're hard to machine because they may splinter.
Fabrics with a plain, twill, or triaxial weave have fibers that are woven in alternating directions for uniform strength and rigidity in all directions. Easier to machine than fabrics with a unidirectional weave, their woven pattern holds the fibers together to limit splintering. Plain-weave fabrics are more rigid and maintain their shape better than twill-weave fabrics. However, they are not as strong and easy to manipulate as twill- and triaxial-weave fabrics. Twill-weave fabrics are stronger than plain-weave fabrics. They're also more flexible, making them easier to manipulate into complex shapes. They will not, however, retain their shape as well as plain-weave fabrics. Triaxial-weave fabrics are stronger and more rigid than plain- and twill-weave fabrics. They're often used to reinforce or create thin composites since you won't have to use as many layers to achieve high strength. Although they are easier to manipulate than plain-weave fabrics, they are not as flexible as twill-weave fabrics for making complex shapes.
Fiberglass fabrics are strong and offer a little flex to finished custom composite parts.
Kevlar fabrics are a super-tough material that offers excellent wear and abrasion resistance.
Carbon-fiber fabrics have the highest strength of all our composite fabrics.
Material
Color

Thick.

Fiber Tensile Stiffness
For Use
Outdoors
Each
Each

Unidirectional Weave

Carbon Fiber
Black
0.014"
Standard (33-36 msi)
No
000000
00
0000000
0000000

Plain Weave

Carbon Fiber
Black
0.012"
Standard (33-36 msi)
No
000000
00
0000000
000000

Twill Weave

Fiberglass Fabric
White
0.009"
Standard (33-36 msi)
No
000000
00
0000000
00000
Kevlar Fabric
Yellow
0.01"
Standard (33-36 msi)
No
000000
00
0000000
000000
Carbon Fiber
Black
0.012"
Standard (33-36 msi)
No
000000
00
0000000
000000
Carbon Fiber
Black
0.025"
Standard (33-36 msi)
No
000000
00
0000000
000000

Triaxial Weave

Carbon Fiber
Black
0.027"
Standard (33-36 msi)
No
0000000
0000000
000000
00
| | | | |
| --- | --- | --- | --- |
| Epoxy—5:1 Mix Ratio (1 gal. metal can and 0.86 qt. metal can) | 0000000 | Each | 0000000 |