Two-Head

Open-End

Wrenches

Rounded Openings

Wrenches with square openings provide the best grip on square fasteners.
For technical drawings and 3-D models, click on a part number.
Multi-Size

Open-End

Wrenches

Also known as alligator wrenches and water-meter nut wrenches, the V-shaped head fits multiple hex fastener sizes.
Size
Overall


Lg.

Opening
Angle
Head


Thick.

Jaw Finish
Material
Color
Grip
Material
Each
3/4"–2"
21"
Straight

11/16

"
Zinc Plated
Powder-Coated Steel
Red
Plastic
0000000
0000000

Standard

Achieve the best possible grip on hex fasteners and prevent rounding.
Size
Material
Specifications Met
Overall


Lg.

Each

25/32

"
Chrome-Plated Steel
ASME B107.100
1

1/2

"
0000000
00000

Standard

Deep

The 12-point shape quickly positions on hex fasteners. These sockets are for hand-driven use only.


Turn many sizes of square, hex, and 8-point fasteners with one socket. Place over the fastener and 54 pins move to grip it securely.
Size
Overall


Lg.

OD
Material
Each

7/16

" - 1

1/4

", 11 mm - 32 mm
3

1/2

"
1

11/16

"
Chrome-Plated Steel
0000000
000000
Nonsparking
6-Point

Socket Sets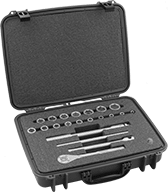 Made of aluminum-bronze, these sockets satisfy OSHA requirements that specify nonsparking tools for locations where flammable vapors and combustible residues are present. The hex shape grips hex fasteners and prevents rounding.
Warning: Do not use these tools in direct contact with acetylene.
No.


of
Pieces
Components
Included
Includes
Each

1/2"

Square

Drive—

Aluminum-Bronze

21
17 Sockets
3 Drive Tools
1 Extension
Standard Sockets:

5/16

",

3/8

",

7/16

",

1/2

",

9/16

",

19/32

",

5/8

",

11/16

",

3/4

",

25/32

",

13/16

",

7/8

",

15/16

", 1", 1

1/16

", 1

1/8

", 1

1/4

"
10" Long Ratchet Wrench
11" Long Sliding-Head Wrench Handle
12" Long Flex-Head Wrench Handle
10" Long Extension
000000
000000000