About Sealant Flexibility
Metal-

and

X-Ray-Detectable

Pull-Tight

Loop

Tamper-Seal

Tags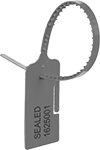 Seal valves, latches, containers, and other devices with these traceable, tamper-evident tags, which are designed for food, pharmaceutical, and other sanitary environments. They contain metal and chemical additives that will set off metal detectors and show up on X-rays if any part of them falls into your line. Use them to help you comply with Hazard Analysis and Critical Control Point (HACCP) programs to make sure contaminated food doesn't leave your plant. Available in a variety of colors for color-coding the different lines and areas of your plant, they help you follow Good Manufacturing Practices (GMPs).
These tags cinch tight like cable ties and have a pull tab to remove them without tools. They're stamped with the message "SEALED" and numbered sequentially, which helps you track if any tags have been tampered with. Not offered blank for security reasons.
Metal-

and

X-Ray-Detectable

Structural Noncorrosive Silicone Sealants

With chemical and metal additives that are picked up by X-ray machines and metal detectors, these sealants are designed to help you comply with Hazard Analysis and Critical Control Point (HACCP) programs in food-processing facilities. Their blue color means they're also easily spotted and removed if a piece falls into your line. They're unpalatable to rodents, so they're often used to seal entry points such as windows, doors, and wall panels to keep out pests.
Also known as neutral cure, these sealants are noncorrosive and won't discolor copper, brass, or concrete. They're structural sealants, meaning they combine excellent sealing properties and high flexibility with the mechanical strength of an adhesive—they can even join dissimilar materials. Made of silicone, their resistance to UV light, moisture, and both high and low temperatures makes them suitable for both indoor and outdoor use. These sealants are room-temperature vulcanizing (RTV), so they'll begin to cure as soon as they're exposed to air. They're non-sagging and won't drip from vertical or overhead surfaces.
Elongation and joint compression/expansion tolerance indicate flexibility—the higher the values, the more joint movement a sealant can sustain.
Mfr.


Model


No.

Size,




oz.

Type
Begins
to
Harden
Reaches
Full
Strength
Elongation
Joint

Compression/


Expansion
Tolerance
Tensile


Strength,


psi
Hardness

Temp.




Range,




°F

For
Joining
Color
Each

Detectamet Silicone

820-P01
10.5
Cartridge
10 min.
24 hrs.
120%
-25% to 25%
58
Soft (Durometer 30A)
-20° to 300°
Metal
Plastic
Glass
Masonry
Blue
0000000
000000