No-Air-Loss

Compressed Air Drain Valves
Air Powered—
0.2-gpm
Capacity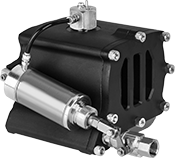 Air Powered—
1-gpm
Capacity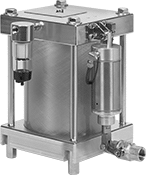 Air Powered—
1.5-gpm
Capacity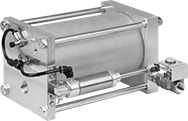 Air Powered—
3.5-gpm
Capacity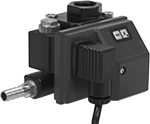 Electric
Powered—
0.2-gpm
Capacity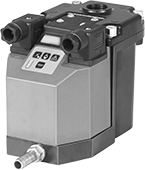 Electric
Powered—
2.9-gpm
Capacity
Save energy by minimizing the loss of compressed air. Unlike other drain valves, these only open when they're full. They close before the reservoir is completely empty, so no air escapes from the system. Install them at low points in your air line after separators, dryers, filters, and aftercoolers.
Air-powered valves don't need to be plugged into an electrical outlet. When water raises the float to a set point, these valves open. They have a simple internal design and large openings to prevent clogs. Drain valves with an air pilot require an additional line of air to operate. Install a 5-micron particle filter (sold separately) before the 1- and 3.5-gpm capacity valves.
Electric-powered valves have a sensor. When condensate inside the valve rises to the level of the sensor, the valve opens to drain. Valves detect when they're blocked—they automatically open and close to attempt to remove the blockage and sound an alarm if they're still blocked. Drain valves with a contact for remote signaling device can be wired to activate a remote alarm if blocked.
Pipe
Size

Thread
Type
Gender
For
Tube
ID
Pipe
Size

Thread
Type
Gender
Discharge


Cap.,


gpm

Max.




Pressure,


psi
Pipe
Size

Thread
Type
Gender

Ht.

Wd.

Dp.

Max.




Temp.,




°F

Features
Each

Aluminum Housing

Air Powered

3/8

NPT

Female
__

3/8

NPT

Female
0.2
200
__
__
__
7

1/4

"
4"
4"
170°
__
0000000
0000000

1/2

NPT

Female
__

1/2

NPT

Female
1
200

1/8

NPT

Female
7

3/8

"
8

1/4

"
5

7/8

"
130°
Resevoir Window
0000000
000000

1/2

NPT

Female
__

1/2

NPT

Female
1.5
170

1/4

NPT

Female
11"
9

1/4

"
10

1/2

"
130°
Clear Resevoir, Particle Filter
0000000
000000

3/4

NPT

Female
__

1/2

NPT

Female
3.5
250

1/8

NPT

Female
8

1/2

"
13

5/8

"
9

1/8

"
180°
Clear Resevoir
0000000
000000

Electric

Powered,

120V

AC—

Hardwire

1/2

NPT

Female

1/4

"
__
__
Male
0.2
230
__
__
__
2

7/8

"
4

7/8

"
3

5/8

"
120°
Alarm
0000000
000000

Electric

Powered,

120V

AC—

Three-Prong

Plug

1/2

NPT

Female

3/8

"

1/4

NPT

Male
2.9
230
__
__
__
4

1/2

"
3

3/8

"
7"
120°
Alarm, Contact for Remote Signaling Device
0000000
000000