About Paint and Protective Coatings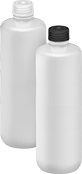 Use these dyes at the end of your zinc-plating process to add a decorative appearance.
Yellow dye creates a finish similar to cadmium yellow chromate. One bottle makes four gallons of dye.
Black dye comes in two bottles. The size listed is the combined total of the two parts. They make one gallon of dye.
Create your own zinc-plating system to add corrosion resistance to steel and iron parts. Kits include an instruction manual as well as the chemicals, containers, and many of the accessories required to degrease, plate, and dye parts (dye sold separately). They come with a zinc brightener for a shiny finish and an abrasive nylon wheel for a dull one.
Each step requires an external heat source (not included). For degreasing, use a high-powered immersion heater. For plating and dyeing, use a low-powered heater, such as a fish tank heater. Kits also require muriatic acid for cleaning parts and a DC power supply and conductive wire for plating (not included).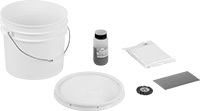 | | | | |
| --- | --- | --- | --- |
| For Use On | Includes | | Each |
| Steel, Iron | Two Plating Tanks with Lids, Two Zinc Anodes, Two Bottles of Concentrate (Part A), Two Bags of Concentrate (Part B), Zinc Brightener, Degreaser, Agitation Pump, Abrasive Nylon Wheel, Plating Manual | 000000 | 0000000 |