Very Flexible
Cut-to-Length

Hook and Loop Cable Ties

Able to fit small bundles, these thin ties are more flexible than other ties. They have hook on one side and loop on the other.
Cut-to-Length

Cinching Straps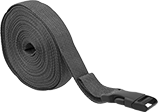 Cut rolls to length and add the included no-sew buckles.
Feed-through buckles are easy to thread quickly.
Squeeze-release buckles can be released with one hand.
Wd.

Lg.

Useful
Life

No.

of
Buckles
Included
Material
For
Use
Outdoors
Color
Each

Pkg.




Qty.

Pkg.

Feed-Through

Plastic Buckle

1"
30 ft.
Reusable
6
Polypropylene Fabric
No
Black
0000000
000000
10
0000000
000000

Squeeze-Release

Plastic Buckle

1"
30 ft.
Reusable
6
Polypropylene Fabric
No
0000000
00000
10
00000000
00000
1

1/2

"
30 ft.
Reusable
6
Polypropylene Fabric
No
Black
00000000
00000
5
00000000
00000
2"
30 ft.
Reusable
6
Polypropylene Fabric
No
0000000
00000
5
00000000
00000