Cable Ties with Material Certification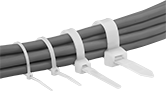 These cable ties come with a material certificate with traceable lot number and product shelf life.
Narrow ties are highly flexible and conform to irregularly shaped material better than standard, wide, and extra-wide cable ties.

Often used as tamper seals and in tagging applications, these ties create a consistent loop size every time.
Mountable Cable Ties
Push-in mount ties fit into a drilled hole.
Standard ties balance flexibility and strength, making them good for most bundling applications.
Push-In Mount—Nylon Plastic
Flame-Retardant

Hook and Loop Cable Ties
Beaded Cable Ties

Reusable
Use in light duty applications such as tagging and attaching documentation to equipment.

These ties have a loop on each end that can be twisted around each other for a secure closure.
PVC-coated steel ties reduce slipping.
Foam Twist Ties

The softest of our twist ties, they have a cushioned outer layer for bundling delicate materials.
Ties with plastic-coated ends won't scratch material.
Lg.

For

Max.


Bundle

Dia.

Useful Life

Dia.

Core
Type
For Use
Outdoors
Includes

Pkg.




Qty.

Pkg.

5"

1/2

"
Reusable
0.38"
Wire
No
3 Black, 2 Gray, 3 Orange
8
0000000
00000